India's highest court has extended custody of Subrata Roy, owner of troubled financial services group Sahara India Pariwar, until he provides an improved plan to refund $3.9bn to investors, according to media reports.
A two-judge panel at the nation's Supreme Court in New Delhi also remanded two Sahara directors into custody until the next hearing on 11 March. Roy had surrendered to police on 28 February after the court issued a non-bailable arrest warrant two days earlier for failing to heed its summons.
The court said the next appearance could be brought forward if a satisfactory proposal was tabled.
Roy now needs to present bank guarantees or something equally solid before he could be released, the judges said. Repayment papers produced by Sahara over the last 1-1/2 years haven't been verifiable, they said.
"The court is communicating that promises are not good enough anymore," Jitendra Nath Gupta, a former executive director at market regulator Securities and Exchange Board of India (SEBI) told Bloomberg TV India in Mumbai on 4 March. "They have been very patient with Sahara for the last year and a half."
In a 4 March statement, Sahara said it has offered to "depute hundreds of competent workers" to assist SEBI in verifying documents and said the two parties should work "harmoniously" to honour the court's verdict.
SEBI has refused to sell Sahara's properties, saying the assets are geographically scattered and many of them are not saleable.
Roy had black ink thrown on his face on 4 March, by an unidentified man, as he entered the Supreme Court premises escorted by security personnel.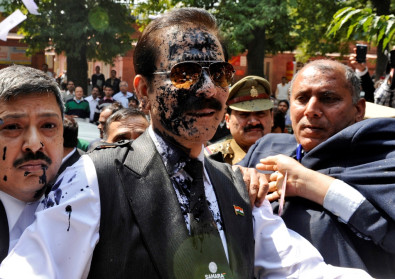 Roy apologised to the court for failing to appear on 26 February.
Sahara Empire
Roy, who calls himself "Sahara Sri", operates wihtin the $670bn shadow-banking industry. Shadow banking, or market-based financing, is the provision of capital by loans or investments to some companies by other companies that are not banks. It includes hedge funds, private-equity funds and insurance companies.
Sahara is the owner of properties such as London's Grosvenor House, New York's Plaza Hotel, and at least 120 companies, including television stations, a hospital, a dairy farm and retail shops selling everything from detergents to diamonds, alongside a stake in India's lone Formula One racing team.
Sahara also claims to own 14,600 hectares (36,000 acres) of land, an area slightly bigger than the city of Cambridge.
Roy, who began accepting daily deposits of as little as 30 cents in 1978 and went on to build an $11bn business empire, is fighting allegations that his group failed to abide by a court order to repay 240bn rupees ($3.9bn, £2.3bn, €2.8bn) to depositors.
India's market regulator in June 2011 faulted two of his firms for selling convertible debt without approval and ordered the money refunded.
Shadow Banking in India
Shadow banking assets in India have shot up 20% annually in the past five years, according to a November 2012 report by the Financial Stability Board.
India is the world's second-fastest-growing shadow banking market and trails Indonesia.
Shadow banking poses risks for India where, according to the World Bank and government data, 65% of the population and 92% of small businesses do not have access to banks.