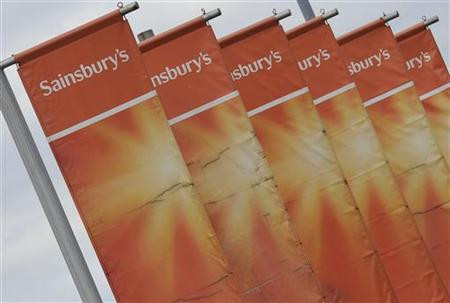 Shares in Sainsbury's were down on the FTSE 100 in morning trading after the supermarket chain reported a rise in like for like sales in the full year ended 19 March 2011.
Like for like sales in the full year increased 4.7 per cent, while in the fourth quarter like for like sales rose 4.2 per cent. Total sales in the fourth quarter climbed 6.8 per cent.
The group said that it had seen gross space growth of 8.5 per cent during the year and added that weekly customer transactions were up by one million per week to 21 million per week.
Justin King, Chief Executive of Sainsbury's, said, "In a tough consumer environment our focus on delivering universal customer appeal and our multi-channel and space growth strategy has attracted a record 21 million customers to our stores each week, up 1 million on last year. As a result we have delivered total sales growth excluding fuel of 3.5 per cent and like-for-like sales growth of 1.0 per cent, outperforming the market in the period.
"We expect the consumer environment to remain tough, with our customers facing fuel price inflation, uncertain employment prospects and government spending cuts. We have demonstrated our ability to perform well in these conditions and are confident that our growth plans and universal customer appeal, supported by Nectar and coupon at till, mean we are well-positioned for further growth in 2011/12."
Richard Hunter, Head of UK Equities at Hargreaves Lansdown Stockbrokers, commented, "Sainsbury is a stock which is currently out of favour with investors and today's update is likely to do little to improve the situation.
"The initial share price hit reflects disappointment with sales growth, and this has in turn marked the rest of the sector down. Whilst there was an improvement in the number of customer transactions, with Sainsbury claiming a better performance than the wider grocery market, the inevitable outlook comments on the impending age of austerity has simply added an extra level of gloom. In addition, and despite a continuing high profile advertising campaign couple with a strengthening online presence, there seems a limited range of positives for investors to chase. In the background, the Qatari stake continues to overhang the shares, and the group lacks the geographical diversification of some of its rivals.
"Even before today's dip, the share price had fallen 9% over the last six months, as compared to a wider FTSE100 gain of 4%. With investors perceiving that there is better value elsewhere, the market consensus of the company as a sell is unlikely to be challenged."
By 09:00 shares in Sainsbury's were down 4.77 per cent on the FTSE 100 to 337.40 pence per share.