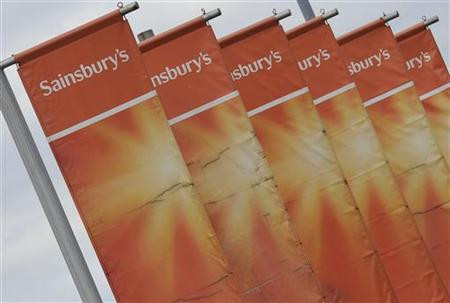 Shares in J Sainsbury were down on the FTSE 100 in morning trading despite the supermarket chain reporting a rise in sales in the 14 weeks to 8 January 2011.
Total sales in the period increased 7.5 per cent, including fuel, while like for like sales, including fuel, rose 5.4 per cent.
The group also said that it had seen an "all time high" of 24.5 million transactions during Christmas week and "record" orders at its online and convenience business.
During the period Sainsbury opened 700,000 square feet of store space and created 5,800 jobs, althoughr 2,100 of these jobs were temporary staff hired for the Christmas period.
Justin King, Chief Executive of J Sainsbury, said, "The business continues to perform well in a challenging consumer environment, as customers are faced with fuel and VAT increases, combined with uncertain employment prospects. Our universal customer appeal together with our accelerated growth plans means we are well placed to make continued good progress in 2011."
Richard Hunter, Head of UK Equities at Hargreaves Lansdown Stockbrokers, commented, "Sainsbury's clever positioning ahead of the Christmas season drew benefit as record sales were recorded.
"Additional promotion of its higher margin products, along with the weather conditions tempting shoppers to buy more in fewer trips, played into the company's hands such that its performance could yet prove to be the best of the big four. Sainsbury's non-food sales lines continue to grow apace, whilst its prominent advertising campaigns perpetuate consumer awareness. From an investment perspective, the uncertainty surrounding the Qatari stake continues to be a positive (should a bid materialise) and a negative (should the stake be sold) in equal measure, which provides something of a conundrum for investors.
"On balance, the picture is neutral. The shares have had a strong run over the last year, having risen 19%, versus a wider FTSE100 gain of 9%. This in turn has led to the shares beginning to look relatively expensive compared to some of its peers, with the market consensus being stuck at a hold."
By 09:25 shares in J Sainsbury were down 1.33 per cent on the FTSE 100 to 385.20 pence per share.