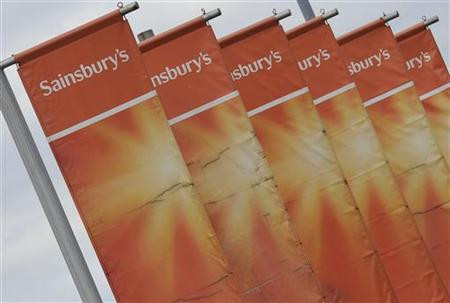 Shares in J Sainsbury were up on the FTSE 100 after the supermarket chain reported a rise in sales in the first quarter ended 11 June.
Total sales including fuel were up 7.3 per cent in the period while excluding fuel total sales rose 4.3 per cent.
Like for like sales including fuel climbed 4.8 per cent and like for like sales excluding fuel rose 1.9 per cent.
The group also reported a rise in weekly transactions of five per cent to 22 million.
Justin King, Chief Executive of J Sainsbury, said, "We've delivered a solid sales performance, in line with our expectations, in spite of the continued tough consumer environment. Fuel price inflation combined with strong fuel volume growth resulted in an increase in total sales of 7.3 per cent, with like-for-like sales up 4.8 per cent. Excluding fuel, total sales were up 4.3 per cent, with like-for-like sales up 1.9 per cent."
"Despite the tough economic conditions our customers celebrated Easter, the Royal Wedding and the glorious weather in April, playing to our strength of supporting family occasions. We sold nearly 300 miles of bunting, 159,000 flags and 49,000 mugs. Hot cross bun sales increased 29 per cent and we sold the most champagne we have ever sold outside of Christmas.
"The market environment remains very competitive, reflecting the challenging economic backdrop. We expect this to be the case throughout the year. Sainsbury's will continue to help our customers to manage their weekly spend and still enjoy great quality products, whilst at the same time investing for future growth in space, non-food and our online business.
Richard Hunter, Head of UK Equities at Hargreaves Lansdown Stockbrokers, commented, "The update has narrowly missed estimates, but the company itself was noticeably upbeat about the latest performance.
"In particular, management was at pains to point out that its non-food offerings grew faster than food and, indeed, ahead of the Tesco number yesterday - albeit that Sainsbury is coming from a lower base. Sales in general were given a boost by the recent warm weather and the Royal wedding, whilst its value brands continue to move into focus as the consumer concentrates more discerningly on the household budget. The shares are also underpinned by a sizeable property portfolio and a dividend yield which, at 4.6%, could be of interest to income seeking investors.
"On the whole, however, the group's reliance on the UK and the remaining Qatari stake are issues which investors cannot ignore. The share price performance has reflected this discomfort, having fallen 13% over the last six months as compared to a 1% drop for the wider FTSE100. In the last three months alone, the shares have given up 10% (FTSE100 up 2%). Despite the positive noises emanating from Sainsbury today, market consensus is that the shares remain a weak hold."
By 09:00 shares in J Sainsbury were up 0.58 per cent on the FTSE 100 to 328.70 pence per share.