Sainsbury's supermarket is entering the digital video streaming sector later this year, by teaming up with Rovi Corporation to offer on-demand film and television titles to its customers.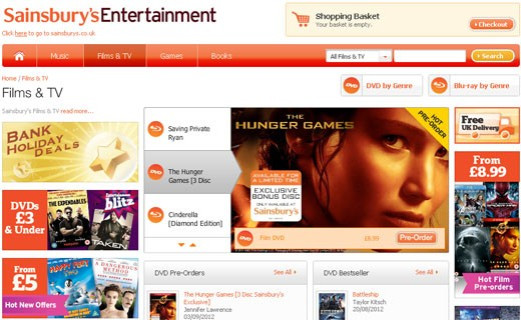 The service will go head-to-head with LoveFilm and Netflix as part of the supermarket's Sainsbury's Entertainment brand that already includes music and ebooks.
Powered by the Rovi Entertainment Store, the supermarket will provide customers with an "extensive library of film and TV entertainment including new releases often on the same day they are available on DVD and Blu-ray Disc."
The companies have not given any details about the number and scope of films and TV shows that will be avaialble through the service. With competition from heavyweights like Sky, LoveFilm and Netflix, it is unclear how Sainsbury's will be able to offer enough exclusive content to entice customers.
Sainsbury's move into on-demand video follows rival Tesco, which bought an 80 percent stake in movie streaming site Blinkbox last year, and this summer it added music streaming site We7 to its growing collection of online media services.
Like Tesco, Sainsbury's could offer a digital version of a DVD purchased in-store giving people more value for money.
Ideal company
Rovi said Sainsbury's was an "ideal company" to collaborate with and described the deal as an important win for the video streaming site.
The service will initially only be available through the Sainsbury's Entertainment website, but the service has plans to expand to offer content through a range of internet connected devices such as Smart TVs, Blu-ray players, smartphones, and game consoles.
Group development director at Sainsbury's Luke Jensen said streaming video is an exciting addition to its online offerings, adding: "Rovi was a natural choice to collaborate with for the launch of Sainsbury's Entertainment's digital video service given the company's market expertise, long-standing industry relationships, and proven technology."
David Cook, senior vice president of sales and marketing at Rovi, said: ""Our agreement with Sainsbury's is an important win for Rovi as we continue our efforts to expand our presence and influence in international markets."