Sam Pepper's Killing Best Friend prank: YouTube star receives backlash for posting disturbing video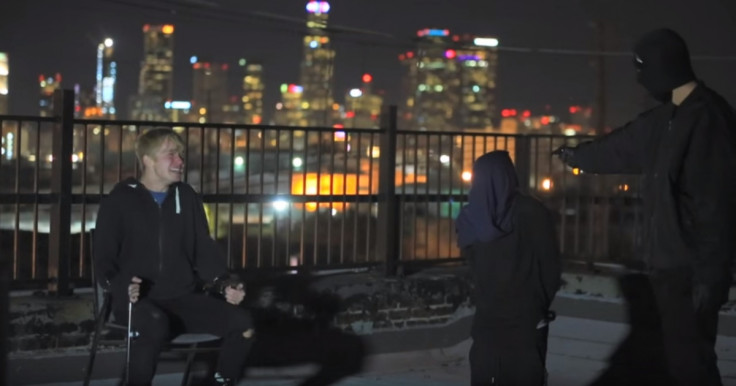 A prank video by YouTube star Sam Pepper has been severely criticised by fans for being disturbing. He recently released a prank video titled Killing Best Friend featuring the staged kidnap and "murder" of a young man in front of a friend.
In the video created by the former Big Brother contestant, two friends, 19-year-old Sam Golbach and 18-year-old Colby Brock, stop at an undisclosed location. Suddenly, a masked man (balaclava-wearing Pepper) appears and covers Golbach's head with a black cloth and pins him down. While he is screaming, his friend Brock can be seen helping the masked man tie up his "best friend".
The video then jumps 20 minutes forward to show Golbach tied to a chair and the kidnapper pointing a gun at Brock's head. "I don't understand, we're just kids from Kansas! You've got the wrong guys! He's everything I have!" Golbach screams while crying for help. But his friend is shot in the head by Pepper and Golbach starts sobbing and screaming.
Though a prank, the video is graphic in nature. Watch it by clicking here, but viewer discretion is advised. It has been viewed by more than one million people.
The video has left many viewers outraged. They have said the prank could have proved harmful for those unwittingly involved in its making. Many have urged YouTube to deactivate Pepper's channel for continuously posting such cruel prank videos. Irked YouTube users have also filed a petition on Change.org to deactivate Pepper's account.
Here is what people think about Pepper and his latest Killing Best Friend video prank.
my dirt on the bottom of my shoe is better than Sam pepper but y'know..... you do you boo

— kels (@dxisylukee) December 1, 2015
sam pepper's "prank" is so way out of the line. i felt uneasy just watching it. WTH

— louies (@louijrg) December 1, 2015
@sampepper just because the person you pranked didn't get hurt doesn't make it less horrible to watch, you're actually sick

— caroline (@nopeniall_) December 1, 2015
How is making someone think they watched their best friend die a "prank"? Sam Pepper is a piece of shit and needs to be banned from YouTube

— brody (@brodymckeegan) December 1, 2015
sam pepper is disgusting that video hurt my heart tAKE IT DOWN

— liv (@takenagb) December 1, 2015
@sampepper Do you realise that you are mentally disturbed?

— Jarrod Glover (@mrjarrodglover) December 1, 2015
Meanwhile, the 26-year-old YouTube star has said that he is glad that people like his latest prank video.
Glad you guys like the new prank! lots more to come, weekly uploads starting at Xmas! ( https://t.co/PkEY9YdeUs )

— Sam Pepper (@sampepper) November 29, 2015
© Copyright IBTimes 2023. All rights reserved.