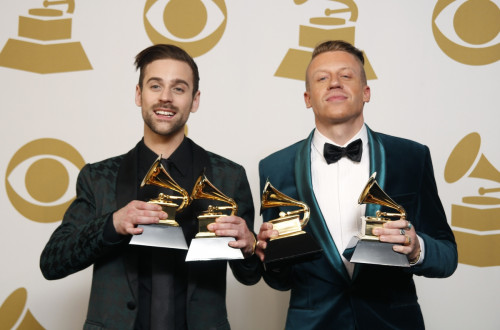 Macklemore and Ryan Lewis have been crowned the best songwriters of 2013.
The Seattle-based duo, who bagged four awards at this year's Grammys, topped the survey compiled by Music Week magazine following the success of their hits Same Love, Can Hold Us and Thrift Shop.
Their commercial triumph also saw them rack up total sales figures of over 1.6 million.
"Macklemore and Ryan Lewis were virtually unknown in the UK at the beginning of 2013, so it is quite some feat they finished as the year's most successful hit songwriters," said Paul Williams, Music Week's head of business analysis.
"Their victory was bad luck on Pharrell Williams who had his hand in three No 1 singles last year, but as he shared the writing on Blurred Lines and Get Lucky with others ended up with a lower score."
Meanwhile, Pharrell Williams came in second place thanks to the success of Blurred Lines, the controversial track he co-penned with Robin Thicke as well as his own single Happy.
The Smeezingtons aka Bruno Mars and his songwriting partners Ari Levine and Philip Lawrence, bagged the third most successful spot thanks to well-received tracks Locked out of Heaven and When I was your Man.
Musical heavyweight Ryan Tedder-the man behind Ellie Goulding's Burn and OneRepublic's Sounting Stars- came in fourth place.
The top five was capped off by Passenger, real name Mike Rosenberg, with the help of his song Let Her Go, which sold over 1.03 million copies.