Grammy Awards 2014: Macklemore Admits he Robbed Kendrick Lamar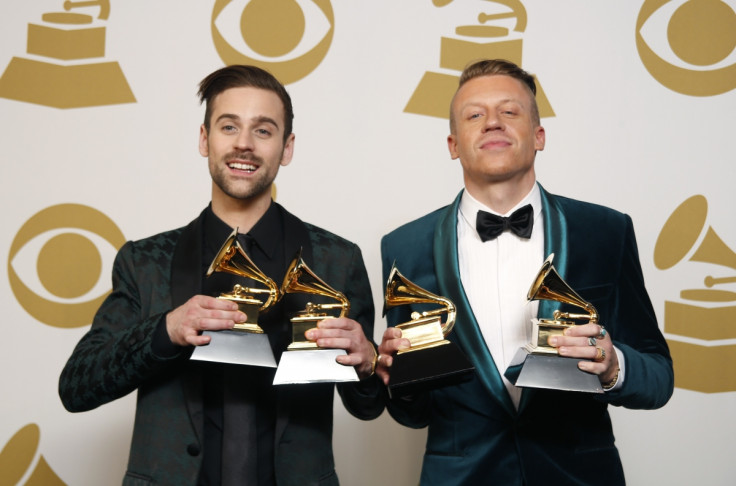 Hip-hop star Macklemore has stunned fans by admitting he did not deserve his four awards at Sunday's Grammys.
The Same Love hitmaker froze out fellow rappers including Jay-Z and Kendrick Lamar when he swept the rap categories and took home gongs for Best New Artist, Best Rap Song (Thrift Shop), as well as Best Rap Album (The Heist).
Following a barrage of complaints from disappointed fans, the 30-year-old star took to twitter to confess that his competitor Kendrick Lamar was more deserving and shouldn't have gone home empty-handed.
In a heart-felt text message sent to Lamar after the ceremony, the Seattle-born artist told the Poetic Justice hitmaker that he "got robbed".
"I wanted you to win. You should have. It's weird and sucks that I robbed you," he wrote "I was gonna say that during the speech. Then the music started playing during my speech and I froze. Anyway, you know what it is. Congrats on this year and your music. Appreciate you as an artist and as a friend. Much love."
He later shared the text on Instagram, along with the caption: "My text to Kendrick after the show. He deserved best rap album... I'm honored and completely blown away to win anything much less 4 Grammys.
"But in that category, he should have won IMO. And that's taking nothing away from The Heist. Just giving GKMC it's proper respect.. With that being said, thank you to the fans.
"You're the reason we were on that stage tonight. And to play Same Love on that platform was a career highlight. The greatest honor of all. That's what this is about. Progress and art. Thank you. #grammys."
In the run up to the Grammys, it was reported that members of the rap committee of the National Academy of Recording Arts and Sciences were in a debate over whether Macklemore & Ryan Lewis should even be considered in the rap categories because of the duo's mainstream appeal.
"It's not that they don't think he's [Macklemore] a rapper," the insider said at the time. "It's just that when you're trying to protect categories and someone has become popular, it should be judged as much. ... Where does their music exist? Who are their fans?"
Lamar has not commented on Macklemore's apology.
© Copyright IBTimes 2023. All rights reserved.