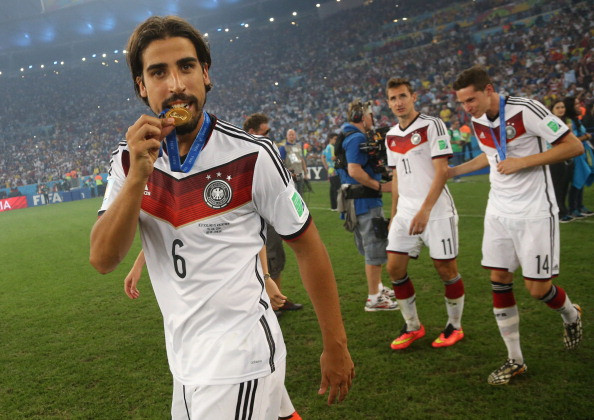 Arsenal's hopes of luring Real Madrid midfielder Sami Khedira away from the Santiago Bernabeu during the January transfer window look all but extinguished, after reports in Spain claimed the German international has already signed a pre-contract deal with Bayern Munich to join the Bundesliga side at the end of the current campaign.
The German international star recently claimed he wanted to remain at the club – and after Luka Modric's injury while on international duty it looked like he even may have the chance to regain a place in Carlo Ancelotti's line-up.
"There have not been talks with any other teams. I have never even considered leaving. And that has not changed as of yet," Khedira recently said.
However, Spanish radio station Cadena Ser reports that Khedira has committed his future to Pep Guardiola's side, and will join them as a free agent this summer once his contract with the La Liga side expires.
The midfielder, whose contract expires at the end of the season, had been close to leaving the Santiago Bernabeu in the summer after Real Madrid looked to cash in on him before he became a free agent.
But after Xabi Alonso decided to move to the Bundesliga, Los Blancos opted to keep Khedira as back-up for Toni Kroos and Modric.
Nevertheless and even though Ancelotti recently said he would like to see him renewing his contract at the Bernabeu, Cadena Ser claim neither the club nore the player has any such intention.
Khedira is looking forward to signing a much more lucrative contract at Bayern as a free agent while Real Madrid president Florentino Perez is firmly against renewing his deal and has not forgiven the German's refusal to renew his contract last October.
Arsenal, Manchester United and even Chelsea have all linked with his services both in the summer and ahead of the January transfer window.
However, it looks like the German international will remain in La Liga until the end of the current campaign before returning to his homeland.