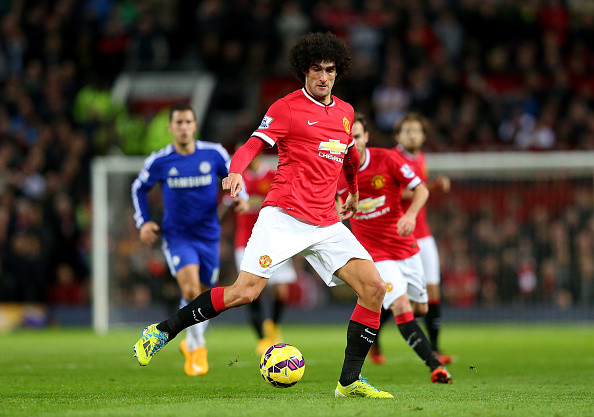 Manchester United midfielder Marouane Fellaini hopes to "stay fit" and keep his place in Louis van Gaal's line-up ahead of Juan Mata and Ander Herrera for the Premier League visit to Arsenal on Saturday 22 November.
The Belgium international looks ready to put behind him both a dismal debut campaign at Old Trafford and an injury which hampered his adaptation to van Gaal's plans earlier this season.
The former Everton star seized his chance during the second half of the game against West Bromwich earlier in October to score his first Premier League goal for the club since his arrival under David Moyes in summer 2013, and has since become a regular for van Gaal.
Fellaini has been picked alongside youngster Adnan Januzaj in the starting XI ahead of Mata and Herrera for the last three games against Chelsea, Manchester City and Crystal Palace.
Mata recently expressed his confidence to play his part at the Emirates Stadium after scoring the crucial goal coming off the bench in the 1-0 victory over Palace just before the international break.
However, Fellaini now says he is back to full fitness and intends to remain that way.
"It's difficult when you come in and then you stop for a few weeks or months because of injury, and you have to wait again," he told Manchester United's official website.
"I want to stay fit now – very fit. I feel I can be dangerous if I stay fit."
The 26-year-old midfielder netted 11 Premier League goals at Everton in the season just before moving to United and, after breaking his scoring duck against West Brom, hopes to replicate the same luck at Old Trafford.
"Scoring the goal was a great feeling," he added. "I had waited a long time for it! I ran straight to the fans when it went in because I wanted to celebrate with them. All the lads came over as well – everyone was happy for me and it has given me confidence but all of us were just pleased that we'd got back into the game. It was an important goal for the team."