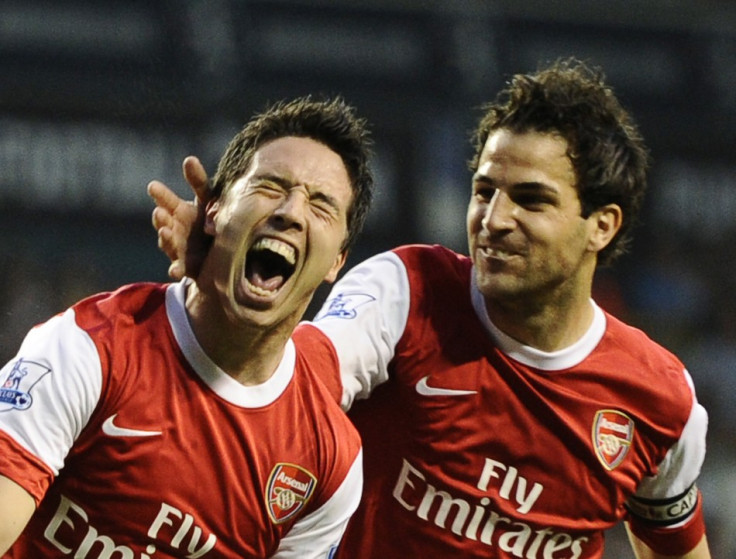 Former France coach Raymond Domenech believes Samir Nasri's perceived problems at Manchester City following his acrimonious departure from Arsenal in the summer, are indicative of the midfielder's "excessive individualism".
The much maligned Domenech, who engineered one of France's most disastrous and well documented World Cup campaigns in 2010, claims the former Arsenal star, who left the Emirates in August for a reported £25 million in order to move to their Premier League rivals Manchester City, is too interested in himself rather than the team.
Domenech suggests Nasri's underwhelming form for Manchester City, following three years at Arsenal, is because of his attitude rather than a lack of talent.
Nasri enjoyed his finest season in English football at Arsenal last year but since engineering his exit from Arsene Wenger's side, and having reportedly rejected the advances of Manchester United, he has failed to recapture the same form for Manchester City.
"(Manchester City midfielder Samir) Nasri needs to talk less and play more. He needs to be focused on his work to show he can be a big player." Domenech told radio station RTL, when discussing his compatriot's woes since leaving Arsenal. "For me, he has talent but is irregular and for a big club it's not positive.
"Nasri is always in discussions and is interested in excessive individualism. To triumph it's necessary to believe more in your team mates and the team."
Despite Nasri's sparkling form for Arsenal in the build-up to the World Cup finals in South Africa in 2010, Domenech famously declined to include the current Manchester City playmaker in his squad. While Domenech cites the player's attitude as one of the fundamental reasons behind Nasri's omission, the Frenchman's international career has certainly improved under Laurent Blanc, even if his club form has perhaps suffered.
Although Nasri quit Arsenal for their Premier League counterparts Manchester City, the Frenchman was famously critical of his ex-Gunners teammate William Gallas, when the veteran defender left the Emirates in order to move to Tottenham.
"There are always ups and downs in life but I have a lot of respect for the way a player stays loyal to his club," The then Arsenal midfielder told the Sun, in November 2010. "I cannot see myself going and joining the sworn enemy."
Nasri was afforded a typically hostile reception when he returned to Arsenal in last month's Carling Cup. The Manchester City star was booed throughout his Emirates return but had the last laugh following their 1-0 victory.