Samsung's 'shotgun strategy' of selling a range of smartphones at different prices has helped it pull away from the once dominant Apple, as the South Korean company sold almost twice as many smartphones as Apple in the last quarter.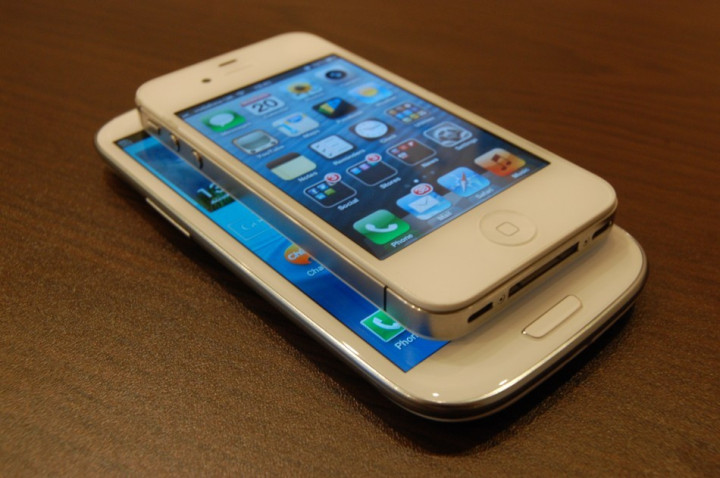 Data from IDC shows that Samsung sold some 50.2 million smartphones in the second quarter of 2012, while Apple shipped 26 million iPhones in the same period - a very different story to the second quarter of 2011, when Samsung trailed two million behind Apple's 20.4 million iPhone shipments.
Overall the smartphone market increased by more than 42 percent compared to last year, with 153 million smartphones shipping in the three months to the end of June.
"Samsung employs a 'shotgun' strategy wherein many models are created that cover a wide range of market segments. Apple, in contrast, offers a small number of high-profile models," said IDC analyst Kevin Restivo.
While Apple kept the iPhone 4 and aging 3GS on sale at discounted prices when the flagship 4S went on sale in October 2011, Samsung has a much broader range of smartphones, including the hugely popular Galaxy S3 and smartphone/tablet hybrid, the Galaxy Note.
Shipping just over 50 million smartphones in the second quarter means Samsung is responsible for 32.6 percent of the global smartphone market, which is a big leap from 17 percent in 2011. Samsung achieved that rise despite growth of just one percent from Q2 last year to now in the market as a whole.
Meanwhile, Apple commands 16.9 percent of the market, down from 18.8 percent last year.
Struggling manufacturer Nokia saw its global share of the market fall from 15.4 percent in Q2 of 2011, to just 6.6 percent in the most recent quarter, despite its continued investment into Windows Phone with its range of Lumia devices, and the 808 Pureview with its 41 megapixel camera.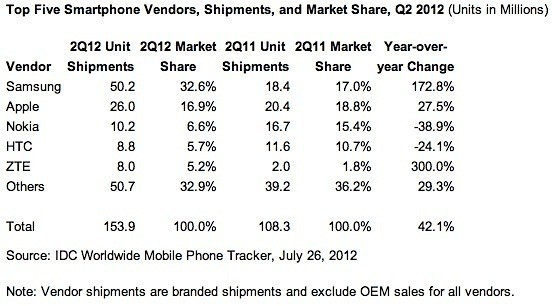 HTC, too, saw its market share fall from 10.7 percent to 5.7 percent, despite its flagship One X and One S offering stiff competition to the iPhone 4S and Samsung Galaxy S3.
The little-known ZTE, however, stole the show this quarter, with year-on-year growth of 300 percent, taking the Chinese manufacturer up from 1.8 percent of the market to 5.2 percent, representing shipments of eight million.
Of course, Apple's downturn in market share is in part as a result of consumers waiting for the highly anticipated iPhone 5, which is due to be released with a larger screen and faster processor in the autumn. This was also reflected in the companies most recent quarterly earnings report earlier this week.
IDC said: "What remains to be seen is how the company's smartphones will fare against Apple's next-generation iPhone expected later this year."
The research firm added: "The quarter-on-quarter shipment decline came six months after it unveiled its latest iPhone. The decline is not unusual as iPhone shipment volume is highest in the first two quarters after its release."