Samsung has dipped its toes into the waters of virtual reality with the consumer-friendly Gear VR, and now the company is looking to dive deeper into immersive technology with its latest invention – the Samsung Entrim 4D motion headphones.
The cutting-edge 4D aural tech combines algorithms and a process called Galvanic Vestibular Stimulation to submerse wearers in a sensory overload by "tricking the part of the ear that regulates your balance and motion into making you feel like you are a part of the excitement."
This technique, which ironically leaves other senses well-worked as it's quite the mouthful, "sends specific electric messages to a nerve in the ear, the VR accessory synchronises your body with changing movements in video content," according to Samsung's ear experts.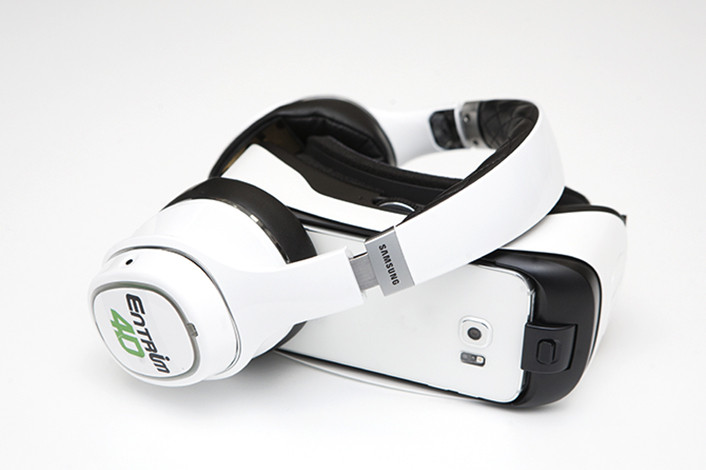 Admittedly, the prospect of experiencing a premium VR experience on the sub-£100 Gear VR and a pair of fancy, if obscenely ugly, headphones, will no doubt appeal to those unwilling to throw their money at the pricey, PC-powered, alternatives like the Oculus Rift or HTC Vive.
That being said, a video showcasing the headset like the one released at its unveiling at SXSW 2016 in Austin (below), isn't doing its best to convince doubters. VR has never been an easy technology to demonstrate outside of first-hand experience, but the answer is not filming a person enjoying VR on one side and acting out an Entrim-induced flail-fest in the other.
The Entrim 4D is an on-going development and is being tested and readied for a future release with experiments on over 1,500 hardware professionals, software engineers and biomedical engineering experts all joining forces for the project. As yet, no price has been mentioned. The accessory was also tested with a first-person view drone, which reportedly created a physical illusion of flying thanks to the drone's own motion sensors.
Steve Jung, the team's Creative Leader, told Samsung Newsroom that "virtual reality shouldn't be experienced only with the eyes." Instead he hopes that through Entrim 4D, "people can experience VR the way it was meant to be—with their whole bodies," a sentiment the flagwavers of the VR porn revolution will be happy to hear.
One genuinely interesting aspect of the Entrim 4D is Samsung's interest in solving the most dreaded side effect of VR: motion sickness. By tricking the brain into thinking the motion of your body matches the image on display, Samsung claims the Entrim 4D will diminish the onset of nausea, dizziness and even headaches while being mentally interpolated into the world of VR.