Samsung has officially unveiled the Galaxy Mega featuring a 6.3in HD display. Samsung has not revealed the pricing details of the device but promised that the new device will be available globally starting from Europe and Russia sometime in the beginning of May.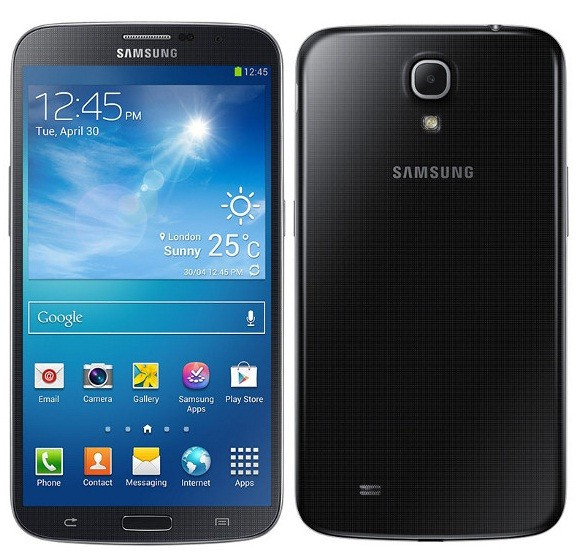 Following the official announcement, German retailer Notebooksbilliger has listed the Galaxy Mega 6.3 on its site revealing the retail price of the device.
As the product page suggests, the black variant of Samsung Galaxy Mega 6.3 bearing model number GT-I9200 is now available for pre-order at a suggested retail price of €899, approximately £766.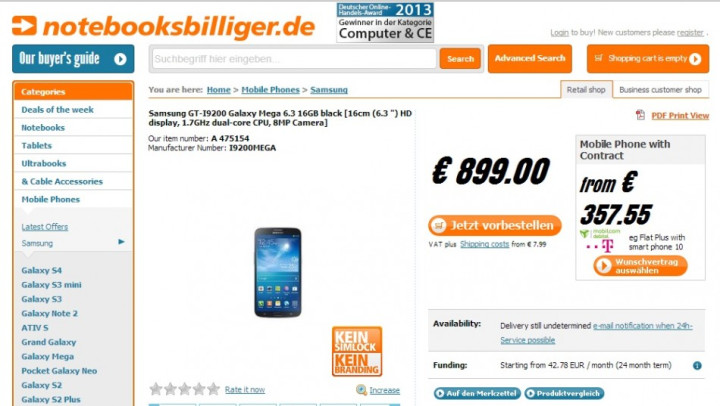 This retail price is contrary to the price noted by the retailer earlier. Interestingly, the device was listed on the site for pre-order at € 699, approximately £596.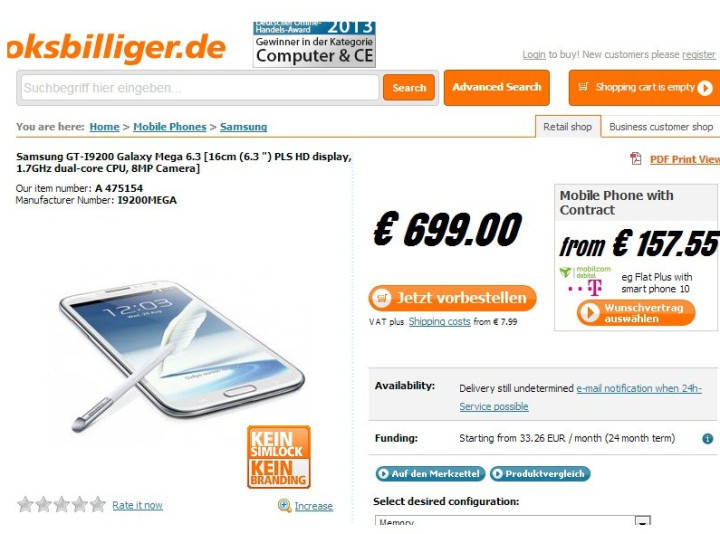 As for the release, the retailer has not provided any details on the product page.
The UK retailers are yet to announce the pricing and availability of the handset which will run on Android 4.2 Jelly Bean once it comes out of the box. The Galaxy Mega 6.3 will be powered by a 1.7GHz dual-core application processor which will integrate 1.5GB of RAM.
The device will have an eight mega pixel rear-camera and front-facing camera of 1.9 megapixel. It will come in two storage variants, 8GB and 16GB, with support for microSD card for additional space. The smartphone will use a bigger battery of 3,200mAh inside.
As Samsung claims, the Galaxy Mega 6.3 combines the portability and convenience of a smartphone with the power, multitasking capabilities and extensive viewing experience of a tablet. Additionally, it will offer a mix of smartphone and tablet features such as user experience, a split screen, multitasking between video and apps.
Alongside the Galaxy Mega 6.3, the company announced a compact version of the device featuring a 5.8in screen. Samsung later confirmed that the Galaxy Mega 5.8 will not be coming to the UK.