UK-based mobile phone retailer Phones 4u has confirmed the Samsung Galaxy S3 Mini is now available for pre-order, with O2, Vodafone and Orange contracts. The S3 Mini, according to information on the website, will arrive in the UK on 8 November and as part of its promotional activity, Phones4u is selling the handset with three months' free Wi-Fi. It should be noted all three service providers are not charging upfront payments and are also offering the Samsung S-Pebble MP3 player (blue) free. The S3 Mini will be available in white.
Vodafone UK is selling the Galaxy S3 Mini on a plan of £25 per month and a two-year contract. Customers will get 300 minutes of free talk time, unlimited texts, 250MB data and 1GB of Wi-Fi.
Orange has two plans on offer. The first is Orange Panther 36 - a £28.50 two-year plan with 600 free minutes, unlimited text and 1GB of data. The second is Orange Panther 31 - a £31 per month, 18-month contract with 200 free minutes, unlimited text and 750MB of data. Both plans come with the Orange Swapables programme.
The O2 plan allows users a £36 per month two-year contract with unlimited talk time and texts and 1GB of data and Wi-Fi. There is also an £80 Auto Cashback scheme.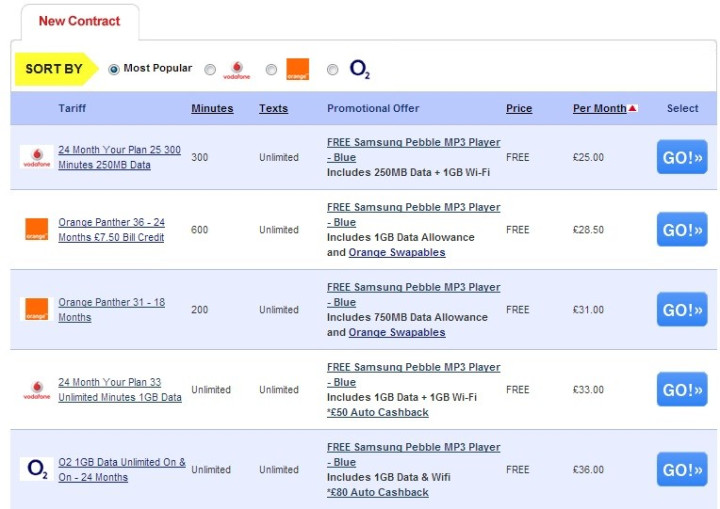 Meanwhile, Expansys UK has revealed the Galaxy S3 Mini (8GB) will be available in both blue and white for £314.99. The 16GB version is available... but for now only in white. The Web site has called for pre-orders but has not provided pricing or release details for the 16GB version.
Clove UK was the first retailer to confirm pre-orders for the Galaxy S3 Mini information was sketchy at the time; it was only known the 8GB version (SIM-free) would be available for £298.80, including VAT, and both blue and white would be available. There was no information on the 16GB version.
The website has since been updated. The 8GB S3 Mini (blue and white) will retail at the same price announced earlier but there is also a warning notice about official price and availability still to be confirmed. However, part of the update now says blue units are expected later (26 November) than the white ones (8 November). There is still no specific information about the 16GB version.