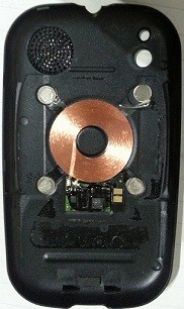 An XDA forum member known as Ryan_G has posted a thread that explains how to add wireless charging to the Samsung Galaxy Note 2.
Here is the list of components needed to achieve wireless charging:
Soldering equipment
Palm Touchstone
Palm Touchstone case
Heat shrink
Electrical tape
Thin multicore wire
To sum up the method briefly, firstly an induction coil has to be taken from the Touchstone case and should be attached to the inside of the Galaxy Note 2's back cover. After doing this, you should be able to reattach the battery cover. Once you place the device on the charging dock, your device will recharge without any physical attachment.
Follow the step by step instructions below to achieve wireless charging on the Galaxy Note 2. IBTimes UK cautions users to proceed at their own risk and will not be held responsible for any damage to the device.
Carefully take the induction coil from the Palm Pre case. Be sure to peel the silver sticker carefully to avoid creating bends that may cause cracking.
Place the coil in the center of the device's battery case and then place the silver sticker over the coil
Check where the charging pins on the device meet the case to indicate where the wires should be placed
Cut two speaker cables, strip the insulation off and heat them up
The wires should now be soldered to the charging circuit and then lined up with an electrical tape. Now, place the original insulation cover over the coil using the magnets
Place the cover over the Palm Touchstone dock to check the voltage (should be 5.6V, less than that means the silver foil is not placed correctly)
Now, replace the cover on the phone
[Source: XDA Developers' Forum]