Following months of waiting, the Samsung Galaxy S3 smartphone has been finally unveiled.
Samsung has lifted the lid on its flagship Android smartphone, the Galaxy S III, which features a 4.8in Super AMOLED display
The phone measures 136 x 70mm which is a lot bigger than its predecessor, the Samsung Galaxy S2, but at 8.6mm thin it remains almost as thin.
The phone weighs 133g which is significantly heavier, thanks in the main to all the extra glass needed for the large screen.
Speaking of the screen, it has an HD resolution of 720 x 1,280 with a 306ppi pixel density. It will launch in Europe on 29 May.
On the rear there is an 8 megapixel camera with LED flash while at the front is a 1.9 megapixel camera which is used for face recognition purposes.
The phone has been finished with a Hyperglaze process and as rumoured, the phone will come in Pebble Blue or Marble White.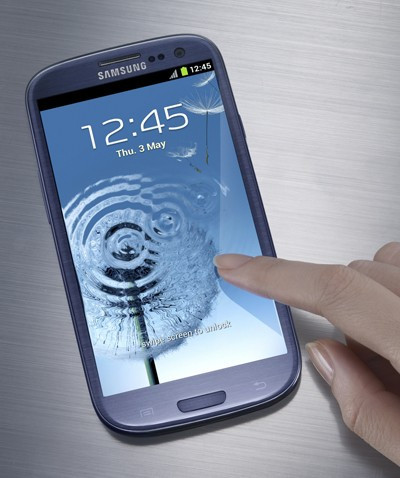 Galaxy S3: Exynos 4 Quad power
The Galaxy S3 is, as we knew, powered by a Exynos 4 quad SoC, featuring a quad-core CPU running at 1.5GHz, along with 1GB of RAM.
The phone comes in 16GB, 32GB or 64GB versions, which can be expanded by a further 32GB by microSD card.
The facial recognition on the front-facing camera is utilised for a feature called Smart Stay, which recognises when you are looking at the phone and will never dim the screen while it recognises you are looking at the phone. As Samsung says: "The phone only sleeps when you do."
Another new feature is Direct Call which lets you call someone back directly by simply lifting the phone to your ear, meaning you can call someone back when you miss a call or if someone leaves you a message, direct from the lock screen.
Galaxy S3: S Voice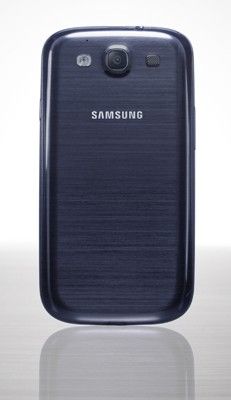 S Voice is Samsung's equivalent to the iPhone's Siri feature, letting you control a range of features while also understanding natural phrases.
Intgrated into a number of apps, S Voice will allow you to simply say "Take a picture" while in the camera app and it will do as you command.
The camera is capable of capturing 1080p Full HD video and it will let you capture stills while shooting video, a feature current seen in the HTC One X and One S.
The camera app also has a Burst Mode letting you take 20 pictures at once, and with facial recognition will automatically recognise people from your contacts and tag them.
NFC is also a major feature of the phone, and the Galaxy S3 has Wi-Fi Direct built into the phone. Samsung has combined Android Beam and Wi-Fi Direct into one feature called S Beam, allowing you to transfer files, inlcuding large video files, between two phones simply by touching them together.
The Galaxy S3 features a 2,100mAh battery which Samsung promises will last longer than most smartphones. The phone will also be the official phone of the Olympic Games.
Galaxy S3: Release Date
Samsung has also announed a wireless charging kit, which had been rumoured but was not someething we were expecting to come through.
The Galaxy S3 will be launched in 145 countires around the world, with over 200 networks. The 3G version is launching at the end of May in Europe first. The 4G version will come to Japan, Korea and North America during the summer.
Carphone Warehouse has announced that all major UK networks (Vodafone, O2, Orange, T-Mobile and Three) will carry the Galaxy S3, with the handset avialable for free from £36 a month.
Carphone Warehouse is also offering the first 1,000 customers who pre-order the phone a free Galaxy Tab 10.1, car charger and screen protector worth over £400.
MUST READ:
Samsung Galaxy S3 Hands On Review
Samsung Galaxy S3: Beat Prices and Deals