With the launch of the Samsung Galaxy S3 just 24 hours away, rumours and leaks are coming thick and fast, with the latest suggesting that the flagship Android smartphone will come in blue and white hues.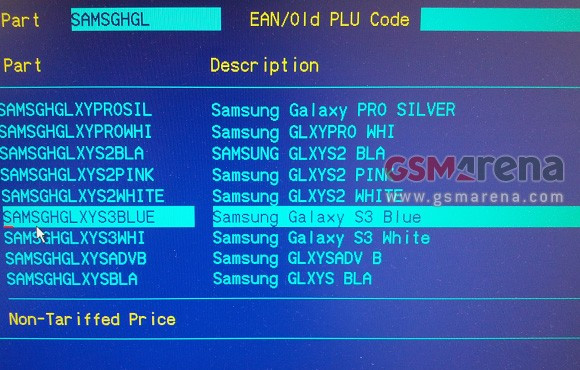 An anonymous source has sent a screenshot to GSMArena which claims to be from the internal Carphone Warehouse inventory system which clearly shows blue and white versions of the Galaxy S3 will be available soon.
If this turns out to be true, it would be a major move away from the traditional black colour the South Korean manufacturer has favoured for its flahship phones, including the Galaxy S and Galaxy S2. However adding weight to this claim is the blue and white colours used in the official press invitation sent out a couple of week ago, inviting journalists to "Come and meet the next Galaxy" in London on 3 May.
There have been numerous leaks ahead of the launch with most reflecting a general consensus that the phone will have a large screen, in the range of 4.5in-4.8in, featuring a new Super AMOLED screen technology. It is set to feature an 8 megapxiel camera on the rear and the one thing we know for certain is that whatever is annoucned by Samsung, it will be powered by the company's Exynos 4 quad chip, which features a quad-core 1.4GHz processor.
There are also rumours circulating that some tie up with the Olympics will be announced, with the Galaxy S3 possibly named as the official smartphone for the London 2012 Olympic Games. It will certainly run a version of Android Ice Cream Sandwich though this is likely to be skinned by a versions of Samsung's own TouchWiz UI.
The first retailer to list the Samsung Galaxy S3 was Amazon Germany last week, which suggested the unlocked, SIM-free version of the phone would be priced at €599 (£490) in Europe.
IBTimes UK will be on hand in London tomorrow evening, 3 May to report on all the details as they happen and bring you our first impressions of the new phone.
Read More: Excitement Peaks ahead of Samsung Galaxy S3 Launch
Read More: Samsung Galaxy S3 Release Date Nears: Top 6 Features We'd Love to See