The Verizon-bound Samsung Galaxy S3 will support global roaming, according to a report by PhoneScoop, which claims to have got the information from an e-mail from Verizon. The report surfaced soon after Samsung announced the Galaxy S3 as ready for US carriers AT&T, T-Mobile, Sprint, Verizon and US Cellular.
According to the available information, Verizon's Galaxy S3 will eventually be able to roam on 2G and 3G networks in other countries, although this will not be immediately possible. Users will have to wait for a software update. There is no information or specific time for the update.
Verizon also confirmed that four of its Android smartphones will get software updates for Global System for Mobile Communications (GSM) networks - Motorola Droid Razr, Droid Razr Maxx, Droid 4 and HTC Rezound. This should help Verizon customers use their phones even when travelling outside the country.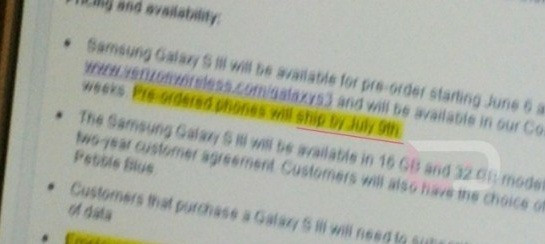 Meanwhile, an internal document suggests customers who pre-ordered the S3 (pre-orders start 6 June) will receive it on 9 July, meaning they could have to wait for more than two weeks after T-Mobile and Sprint customers receive theirs. Both T-Mobile and Sprint have announced 21 June as their launch dates.
In any case, Verizon will offer both colour variants - Marble White and Pebble Blue. The 16GB Galaxy S3 will cost $199.99 and the 32GB model $249.99 on contract.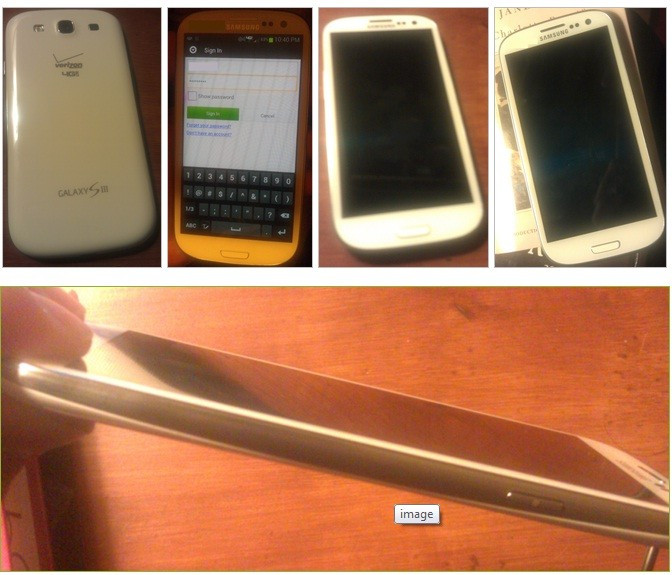 An earlier IBTimes UK report noted that Android Police reported finding leaked images of the Verizon Galaxy S3. The photos suggest the device will have a physical "Home" button and the Verizon logo (with 4G LTE) inscribed on the battery cover.
o an IBTimes report, few leaked photos of Verizon's Samsung Galaxy S3 has been obtained and published by Android Police. The photos reveals that the Verizon's Galaxy S3 will have a physical home button