The Samsung Galaxy S4 is powered by an 8-core processor, called the Exynos 5 Octa chipset, featuring ARM's new big.LITTLE technology to increase performance and battery life.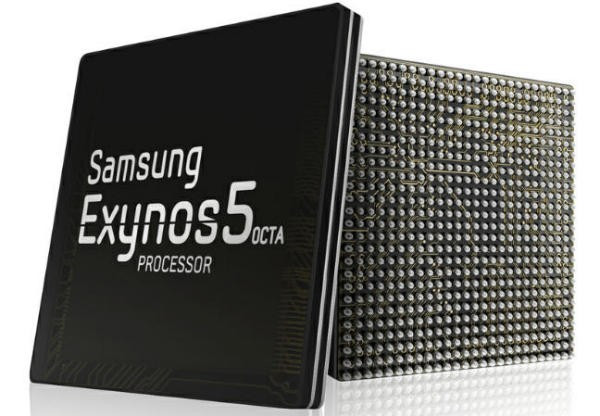 Although there are eight cores on offer, saying the processor is twice as large or twice as powerful as the Galaxy S3's quad-core chip isn't accurate, because the S4 uses its cores more intelligently to balance power and battery life.
The Exynos 5 Octa chip is partly made up of four Cortex-A15 cores which are clocked at 1.6 GHz and provide the phone with a huge amount of power to deal with intense 3D games, video streaming and multitasking.
These four cores are joined by four lower-voltage A7 cores clocked at 1.2GHz and used to manage simpler, less demanding tasks. So if the phone is being used to look through Twitter, make a phone call or rest at idle, it is powered by the A7 cores, sipping battery power slowly and increasing the time between charges.
When you fire up a 3D game the processor switches to the more powerful A15 cores, which can provide the performance needed, but will reduce battery life if used all of the time.
Samsung announced the Exynos 5 Octa back in January at CES and said at the time it provides twice the 3D performance of any previous mobile processor, including the company's own Exynos 4 Quad, and presumably the iPhone 5's A6 chip, too.
We've yet to see how the Galaxy S4 performs for ourselves, but it should prove more than a match for the iPhone 5, HTC One and Nokia Lumia 920, and if the big.LITTLE technology can extend battery life to two days then Samsung has a bragging point its rivals can't match.
The Samsung Galaxy S4 also has a dedicated GPU (graphics processing unit) in the form of a PowerVR SGX 544MP for dealing with intensive games. The GPU is the same used by Apple in the iPhone 5, but Samsung has upped the clock speed from 350 to 533MHz.
Finally, the Galaxy S4's processor is joined by 2GB of RAM and there is 16GB of internal storage, which can be increased with the addition of a microSD card.