Samsung has tweeted the first official teaser image of its upcoming Galaxy S4 Android smartphone, which will be unveiled in New York City on 14 March.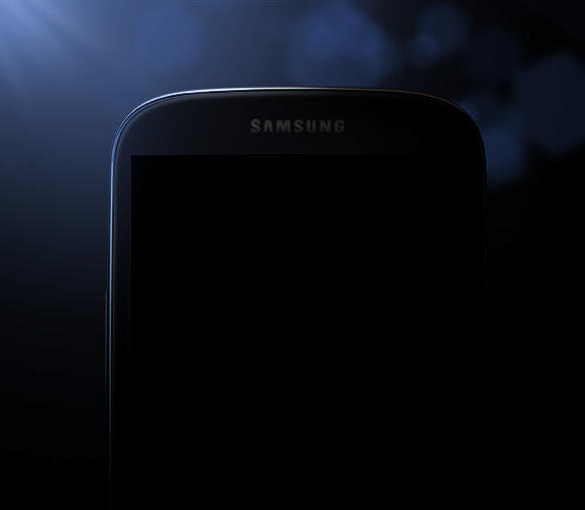 The picture comes only a day after supposed images of the S4 were leaked online by Chinese tech forum 52 Samsung and shows the top half of the S4 with the rest covered by shadows.
However, the top half of the device seems to be missing the standard ear piece speaker, front-facing camera and any form of proximity sensor.
Otherwise, the Galaxy S4 appears to be identical to the ten-month-old S3 - a large, flat phone with curved edges and what looks to be a volume rocker on the left edge. Based on the leaked pictures of the S4 from 52 Samsung, the device has a 5in display, slightly larger than the 4.8in screen of the S3, although its home and power buttons both appear in the same places.
52 Samsung also posted a screenshot of the S4's About page, which explained the phone uses Android 4.2.1 and a 1.8GHz quad-core ARM processor, as well as 2GB of RAM.
A video posted to YouTube by 52 Samsung shows an S4 handset being used live and demonstrates the phone's new camera, which is expected to be 13 megapixels, as well as the home page and phone book:
An earlier leak of the S4 revealed a new feature called 'Smart Screen' which tracks users' eye movements to move the screen based on where they are looking. If for example a user is reading an email and reaches the end of a paragraph, the S4's Smart Screen will automatically scroll the page up so that they can continue reading. This builds on a feature already included in the Galaxy S3, whereby the phone automatically locks once the front-facing camera detects that the user is looking away from the screen.
Though Samsung has yet to officially announce any details or price points of the S4, the device is set to be officially unveiled at midnight GMT this Thursday. IBTimes UK will be covering the Samsung press event and will be bringing you all the details around the S4 as they are revealed.