The launch of the most high-profile smartphone of 2013 so far, the Samsung Galaxy S4, has been hit by stock shortages, as major UK retailers and networks report delays ahead of this weekend's launch.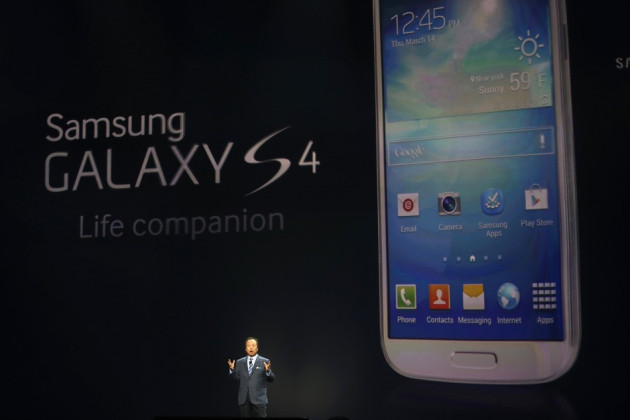 The £580 Galaxy S4, due to be launched in the UK on Saturday (27 April), is Samsung's latest flagship smartphone and iPhone rival, with a 5in full HD display, 13-megapixel camera, and a design almost identical to last year's Galaxy S3.
But IBTimes UK has been told that not enough S4 stock has not been shipped and will not arrive in some cases until 3 May - almost a week after its intended release.
A Vodafone spokesman said it would be "very unlikely" that there would be any stock available over the launch weekend, other than for customers who pre-ordered the phone. Vodafone hopes to fulfill pre-orders over the weekend, but stressed that stock levels were low.
The position of high street retailers was not much better, with Phones4U telling the Guardian: "All available stock will be used to fulfil pre-orders before going into our stores and we are working with Samsung to ensure that all pre-orders and sales across our other channels are fulfilled as quickly as possible. We anticipate that handsets will be in store next week but cannot confirm an exact date."
It's a similar story at Carphone Warehouse, which said it had "seen huge customer interest in the Samsung Galaxy S4".
"[We are] working hard to ensure that we fulfil as many pre-orders for the handset as possible," it said. "We will ensure that every customer impacted by any supply issues is contacted and informed of the likely delivery of their new handset."
Unprecedented demand
In a statement sent to IBTimes UK, Samsung said: "There has been unprecedented demand for the Galaxy S4 in the UK. Samsung is working hard to ensure that pre-orders and sales across all channels are fulfilled as soon as possible."
Speaking at a company event in Seoul, Samsung Mobile's president of strategic marketing, Lee Don Joo, said: "Pre-order demand is much stronger than expected, so it's difficult to rapidly boost supply in the short term."
US network Sprint has also fallen victim to Samsung's supply constraints, admitting in a statement that it had planned to launch the Galaxy S4 on 27 April, but "unfortunately, due to unexpected inventory challenges from Samsung, we will be slightly delayed with our full product launch."
Sprints hopes to have the S4 on sale online by the 27th, but stock will not arrive in retail stores until more shipments arrive from the manufacturer.
Meanwhile, T-Mobile US admitted it will not be selling the S4 online until 29 April, having previously said web sales would start on the 24th.
The Galaxy S4 is expected to sell in huge numbers following the success of the Galaxy S3 last year and the S3 in 2011. Samsung's position as the smartphone leader was confirmed this week by figures from IDC which indicated it's share of the market had grown to 32% (up from 28%) year-on-year while Apple's had dropped from 23% to 17%.
Samsung also saw this growth reflected in its financial results which were announced this week with profits jumping 41% on the back of huge smartphone sales.