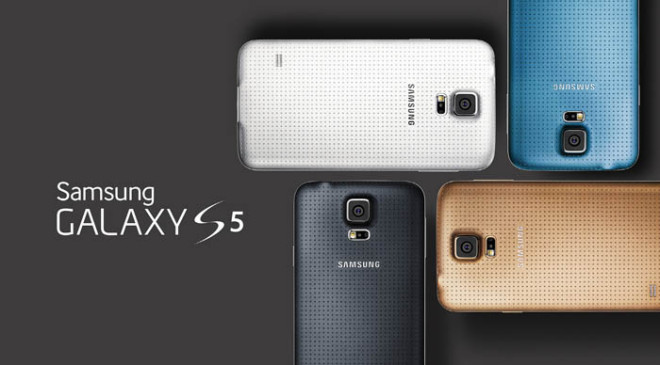 Galaxy S5 Key Features:
Fingerprint scanner
Heart Rate Monitor
Android 4.4 (KitKat) with TouchWiz
16 Megapxiel Camera
5.1in screen (1920 x 1080)
On sale in April
Samsung has officially unveiled its flagship smartphone for 2014, the Galaxy S5 as well as fitness tracker as the company looks to capture the burgeoning wearable technology market.
Many smartphone watchers had been expected Samsung to introduce a radically different looking smartphone but the South Korean company has chosen to focus on health and fitness aspects of the phone rather than changing the design.
The Samsung Galaxy S5 features a fingerprint sensor integrated into it home button, a heart rate monitor on the rear cover of the phone and a waterproof design which is very similar to last year's model.
As well as monitoring your steps and tracking what calories you've burnt, the Galaxy S5 will now also be able to monitor your heart rate, using the sensor on the rear of the phone in conjunction with the new S Health 3.0 app which comes bundled with the phone.
Just how (or why) someone would use the heart rate monitor on a regular basis is not clear, as holding your finger against it during a run or workout is just not practical. Samsung is clearly betting big on heart rate monitors, including one on its new Gear 2 smartwatches which it also launched at Mobile World Congress.
Gimmick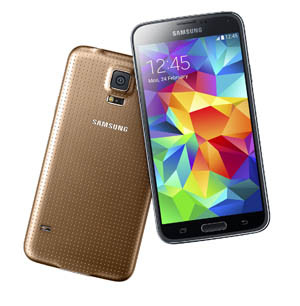 While the heart-rate monitor may be something of a gimmick, it sounds like the fingerprint reader could be more useful that the Touch ID system Apple introduced on the iPhone 5s.
The fingerprint scanner is integrated into the home button and can register three separate fingerprints. Taking eight swipes to recognise your fingerprint, the system can be used to unlock the phone, but also to make purchases online through PayPal. However it current can't be used to validate purchases in the Google Play store.
While Apple's system allows for purchases to be made via iTunes and the App Store, this system could be much more useful.
In terms of hardware, the phone features a slightly bigger 5.1in screen with the same resolution as the Galaxy S4 (1920 x 1080), it will be powered by a Qualcomm Snapdragon, quad-core, 2.5GHz processor, 2GB of RAM, 16/32GB of storage. There is also also the option to upgrade the storage via microSD card.
Samsung has also improved its camera, with the 16 megapixel sensor capable of capturing 4K video – just like the Sony Xperia Z2 which was launched earlier on Monday.
The camera is also said to have a slow motion feature which is a function seen in the iPhone 5s last year. The camera's Selective Focus feature will allow users to re-focus a picture after you have taken it, something akin to the ability of the Lytro camera
Samsung is promising a boosted battery life thanks to a larger battery and optimisation in software.
The phones will available in black, white, blue and gold and will be available to buy in April.
Samsung Gear Fit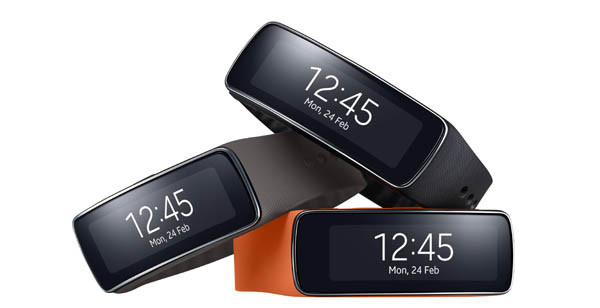 To complement the focus on fitness, Samsung also unveiled its own fitness tracker. The Gear Fit will sit alongside the company's two Tizen-powered smartwatches - the Gear 2 and Gear 2 Neo - which were launched at Mobile World Congress on Sunday.
The Gear Fit looks similar to other fitness trackers such as the Nike Fuelband and Fitbit Flex, but it features a large curved AMOLED touchscreen - however it loses out on a camera, speaker and microphone, though it can still handle alerts from your smartphone.
It is primarily designed though to track your movement, the calories you burn and your heart rate with an in-built fitness coach on the wristband telling you to get moving or slow down.
The wristband will of course sync with its suite of S Health apps on Galaxy smartphones.
The strap is interchangeable and available in a number of colours and Samsung claims the wristband will have a battery life of three to four days. the wristband is also IP-67 certified meaning you can wear it safely in the shower.
The Fit will arrive along with the Galaxy S5 in April but Samsung has yet to reveal how much it will cost.