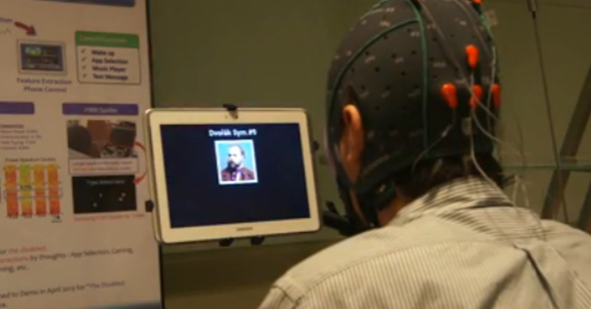 Samsung has already incorporated some ground-breaking technology in its new flagship smartphone, the Galaxy S4, including eye-tracking, face-detection and support for gesture-based input.
Now the Korean company has announced that it is working on mind-control technology for its tablet computers. In association with researchers at the University of Texas, the company has developed a special cap studded with EEG electrodes, which pick up and transmit the wearer's commands with the help of a brain-signal monitoring app.
Although the technology is still in the early stages of development, it could prove to be a wonderful tool for physically disabled users. EEG brain signal devices are already available from Neurosky and Emotiv Systems, but these are restricted to gaming.
Samsung is working with Roozbeh Jafari, an assistant professor of electrical engineering at the University of Texas, Dallas, to devise a way to communicate users' thoughts to launch an application, select a contact, a song from a playlist, or power up or down a Samsung Galaxy Note 10.1.
As the MIT Technology Review notes, the brain cells send signals to the screen based on brain activity patterns and decipher input selections on the screen based on a user's eye contact with a screen icon that blinks at a given frequency.
"Several years ago, a small keypad was the only input modality to control the phone, but nowadays the user can use voice, touch, gesture and eye movement to control and interact with mobile devices," said Insoo Kim, Samsung's lead researcher.
"Adding more input modalities will provide us with more convenient and richer ways of interacting with mobile devices."
EEG control is currently very slow, and a little hit and miss, with each selection taking five seconds with an accuracy rate of 80 to 95 percent. Furthermore, it takes around 45 minutes to set up the special cap, which uses a messy, sticky gel for conductivity. A dry EEG apparatus is in the works, but has lower signal quality. Researchers at the University of Texas are working to improve the system's brain signal processing capacity and make the EEG cap more compact and user-friendly.
[Source: MIT Technology Review]