Samsung Premiere London Event Preview
Samsung is set to take over Earls Court in London today, as the Korean smartphone maker shows off a range of new products from its Galaxy and Ativ ranges.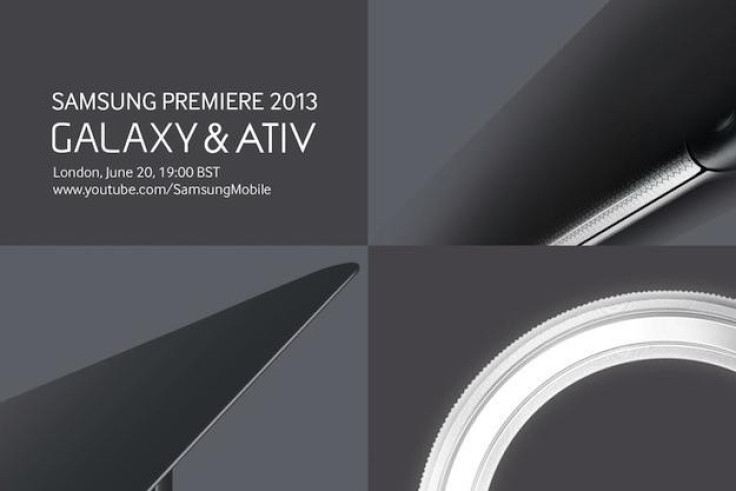 The last time Samsung was at Earls Court it was to announce the Galaxy S3, so we're expecting some big news from the phone-maker later this evening.
IBTimes UK will be attending the event in person and will be getting hands-on with everything Samsung has to show, but for everyone else the company will be streaming live video to its Samsung Mobile YouTube channel from 7pm BST, 2pm EDT, 11am PST.
We already know that the Galaxy S4 Mini, S4 Active and S4 Zoom will make an appearance, and the London event marks the first time journalists will be able to get their hands on the three devices aimed at widening the hugely successful Galaxy brand.
The 4.3in Mini will look to build on last year's S3 Mini and become a viable alternative for those consumers put off by the regular S4's huge 5in screen. Meanwhile the S4 Active is the same as the regular model, but features a toughened case which is both water and dust resistant.
Finally for what we already know, the Galaxy S4 Zoom is Samsung's product aimed at consumers who want an S4 and compact camera combined in one. Looking similar to last year's Galaxy Camera, the S4 Zoom has a 4.3in screen, but around the back is a huge 16-megapixel camera with 10x optical zoom and image stabilisation.
Samsung will be looking to pick fights with both Nokia and Sony this evening, as the S4 Zoom's camera will see it compared closely to the Nokia Lumia 920 and 925, both of which feature optical image stabilisation and take incredible photos, while the robust S4 Active will be compared closely to Sony's Xperia Z, which is also water resistant.
As for surprises, Samsung's invitation to the event mentions Ativ, the name given to its Windows 8 tablets and Windows Phone 8 smartphone, so we're expecting plenty of Windows updates from the event.
As the Ativ S smartphone was essentially a Galaxy S3 running Windows Phone 8 instead of Android, we wouldn't be surprised to see a new Ativ S modelled on the larger Galaxy S4, and perhaps a smaller Windows device too, to rival Nokia's cheaper Lumia smartphones.
Also on the invitation is what looks like the lid of a laptop, so we wouldn't be surprised to see new Windows 8 machines, and perhaps also an update to the Ativ Tab and Ativ Smart PC, which was announced last summer and featured a removable keyboard dock similar to Asus' Transformer Pad range.
Samsung isn't known for doing things by halves - it's event at IFA last summer featured a live band playing the company's ringtone - but we're hoping it has learnt its lessons from the simply bizarre Galaxy S4 launch in New York in May.
© Copyright IBTimes 2023. All rights reserved.