Key Features:
13.3in SuperBright HD+ Display (1600 x 900)
13mm thin, 1.15kg
1.6GHz Core i5-2467M, 4GB RAM
128GB Flash Storage
1 x USB 3.0, 1x USB 2.0, 4-in-1 card reader, 1 x MicroHDMI port
Backlit keyboard
Price as reviewed: £1,100
Introduction
Samsung introduced the Series 9 range of laptops in 2011 and won gasps of awe from the technology world for the design and build quality of the black, brushed-duraluminum laptop, which was only 16mm thin.
While Samsung never classified the Series 9 laptops as Ultrabooks, they are in everything but name. With the launch of the second generation of these ultraportable, premium laptops, Samsung is hoping to continue the success of the original and finally give consumers a Windows alternative to the MacBook Air. Let's see if it can succeed?
Samsung Series 9: Design and Feel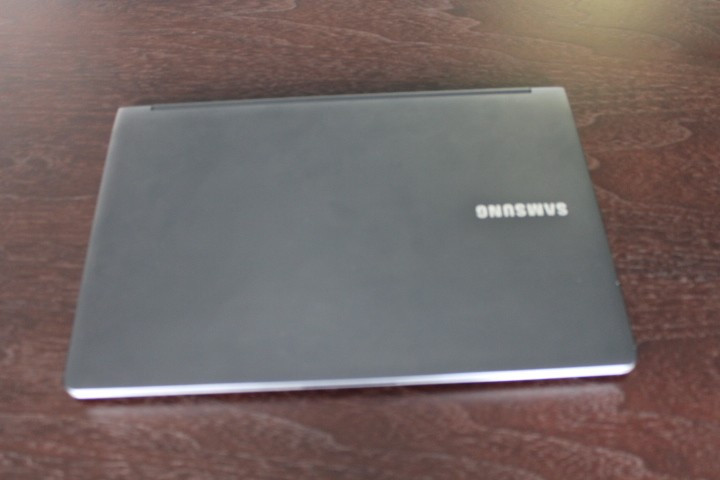 The original Series 9 cut a dashing figure among laptops of the time and the 2012 Series 9 model is no different. We are looking at the 13in model, but there is a 15in model also available, but no matter which size you go for, it is hard not to be impressed from the minute you take it out of the box.
The brushed-duraluminum finish has been replaced by a gunmetal grey/blue aluminium unibody chassis which looks and feels as good as we would expect from a £1,000-plus laptop. By using a unibody design, Samsung is following in Apple's footsteps, but Samsung has at least matched, if not outdone Apple in terms of build quality and design.
The laptop measures 328 x 227mm and while it features an almost fully-flat design, it does narrow from 16.3mm to 15.9mm - though this is almost imperceptible when you use the laptop.
The laptop weighs just 1.16kg, yet despite this light weight, manages to feel sturdy and solid, which is thanks to the build quality of the laptop. The lid's blue/grey finish is only broken by the silver Samsung logo and the company hasn't forgotten about the bottom of the laptop either, printing the various licences and logos directly onto the chassis, rather than using those unsightly stickers.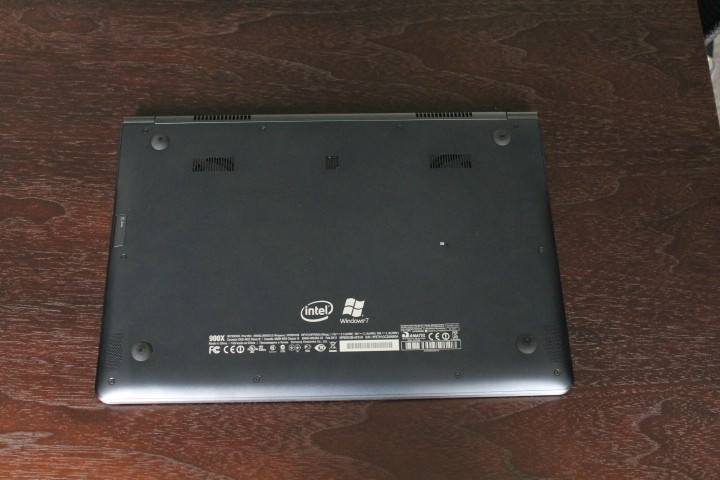 As is normal in most these days, the 6 cell, 40Wh battery is not user accessible, unless you are brave enough to fiddle with the ten screws holding the bottom plate in place.
While the top, bottom and keyboard surround all use the same gunmetal grey/blue finish, the sides feature a silver, aluminium flourish which helps highlight just how slim this laptop is, as well as working on a purely aesthetic level.
Opening up the laptop and you are presented with a backlit chiclet keyboard, which, as we said, features the same finish as the cover and base. The touchpad uses a darker colour to help it standout and a slight dip between the palmrest and the keyboard surround makes for a better typing experience.
The 13.in screen is surrounded by a narrow bezel on the top, left and right though the bezel along the bottom is significantly bigger due to the presence of a Samsung logo. A 1.3 megapixel webcam sits above the screen.
Samsung Series 9: Connectivity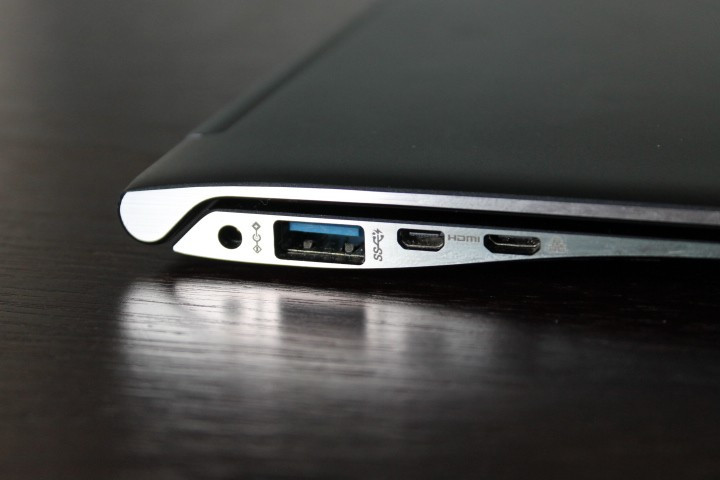 Connectivity in ultraportable laptops is not something which has been universally brilliant but Samsung needs to be applauded for the amount, and variety, of ports it has managed to cram into the slim chassis of the Series 9.
Along the left-hand edge you will find a microGigabit Ethernet port, which comes with a supplied lead to convert it to a standard Gigabit Ethernet port, which is a much better solution than simply omitting the port completely.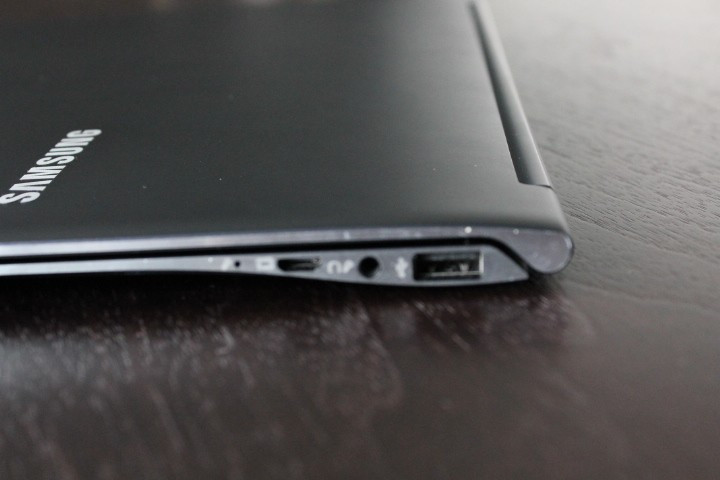 Next to this is a Micro HDMI port for your video and audio outputting needs, a headphone/microphone combo jack, a USB 2.0 port and the DC jack for supplying power to your laptop.
Along the right-hand edge, you'll find a 4-in-1 card reader which accepts SD, SDHC, SDXC, MMC cards. This slot is hidden away on the bottom edge of the laptop with a flap covering it when not in use. However we found it to be extremely accessible and the flap didn't get caught when we were inserting or taking out cards.
Next to this is a mini VGA connector, which will allow you to connect the laptop to a monitor if you wish. Be aware though, you will need an adaptor which, unlike the Ethernet cable, is not included and costs £22 to buy separately.
Finally on the right-hand edge you get a fast USB 3.0 port, which is quickly replacing USB 2.0 as the de facto data transfer standard on laptops these days.
Looking at your wireless connections, you get Wi-Fi N, Wireless Direct (WiDi) support and Bluetooth 3.0. All in all we think the Series 9 has pretty much all bases covered in terms of connectivity.
Samsung Series 9: Keyboard and TouchPad
We've had some pretty good experiences recently with Ultrabook keyboards and touchpads, with the Dell XPS 13 and HP Folio 13 both offering excellent typing and scrolling experiences. Though we have also had some poor experiences, with the Asus Zenbook standing out in particular.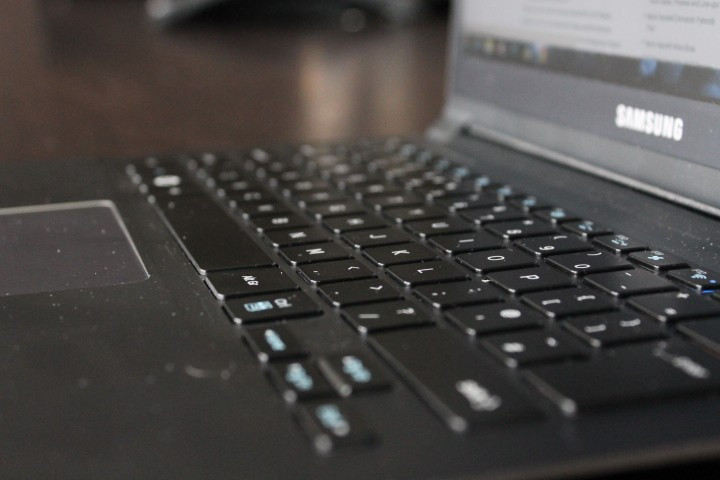 The Series 9 gives us a mix of both with a decent if not brilliant typing experience, combined with an iffy touchpad experience.
Looking at the keyboard first, it is a perfectly reasonable layout with the keys well-spaced and all in the position you would expect them to be. Even the navigation arrows have more space than normal, meaning we actually found ourselves using them on the Series 9, whereas before we've ignored them due to being too small or cramped.
We would ideally have liked a bit more travel on the keys, but overall the feedback from them was good. The backlighting, when turned on, is monitored by a ambient light sensor and there are four different levels to suit your needs and it all works very well.
The touchpad however poses an issue. Like the trackpad on the MacBook Air, Samsung has gone for a single touchpad with the buttons integrated into it. While you can click the touchpad anywhere, only when you do it in the bottom right- and left-hand corners do you get a reaction on-screen - which is an odd design decision.
The trackpad is nowhere near as smooth in use as the one found on the Air, and despite trying to calibrate it to be more responsive, we found it just wasn't up to the task. It does support the full range of multi-touch and swipe gestures though and while it is far from terrible, on such a premium laptop we would have liked more.
Samsung Series 9: Screen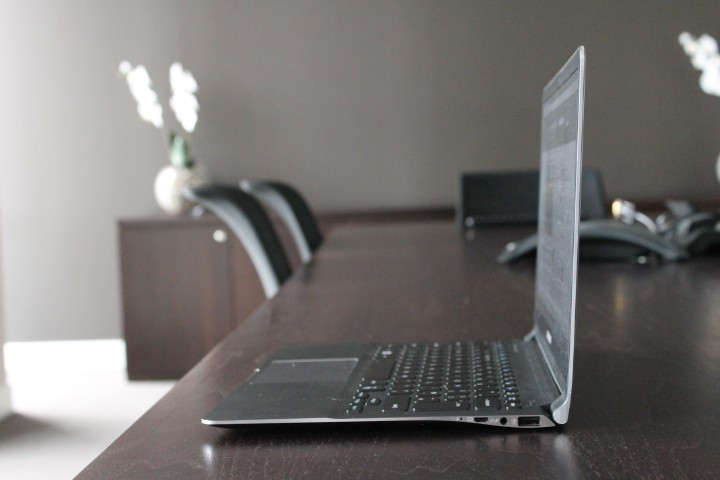 Laptop screens are far and away the area we most want to see an improvement in, and Samsung has taken the biggest step forward (MacBook Pro with Retina Display aside) we have seen in a long time.
The 13.3in screen, surrounded by that narrow bezel, is simply stunning. For watching movies, we have never seen a better laptop. The colours are bright and punchy though rarely over-saturated. Images are very sharp thanks to the high 1,600 x 900 pixel resolution and thanks to the use of PLS LCD technology instead of the usual TN variety seen in the majority of laptops.
Where this technology is most clearly seen however is the viewing angles. Normally moving away by a few degrees from the optimal viewing angle means what you are looking at almost completely disappears, thanks to contrast shift, but not here.
Viewing angles are impeccable and moving the screen back and forward no longer means you desktop disappears, something which comes in very handy when on the move.
Simply put, we've yet to see a screen of this quality and unless you are willing to shell out £1,800 for a Retina Display MacBook Pro, the Series 9 is the best you are going to see.
Samsung Series 9: Hardware and Performance
Of course a great screen is not much good if there is nothing to power it, but the Series 9 is able to keep up with most tasks you ask of it, thanks to the 1.6GHz dual-core processor inside.
While the Intel Core i5 2467M processor is not the most powerful chip we've ever seen, and is more usually found in laptops at the budget end of the Ultrabook scale, it was certainly more than capable of all we asked of it, including flawless Full HD video playback and even some light video editing.
The processor is backed up with 4GB of RAM and a 128SSD which is pretty standard in ultraportables these days. Unfortunately Samsung offers no options to upgrade should you require more RAM or more storage, which does seem a bit short-sighted in our view, but could be due to space and hardware restrictions.
While we found the Intel chip and accompanying integrated graphics to work well, our NovaBench test begged to differ, retuning a paltry score of 277 which as you can see compares poorly to the other Ultrabooks we've tested. Despite running the test a number of times, we received the same result, which we are at a loss to explain.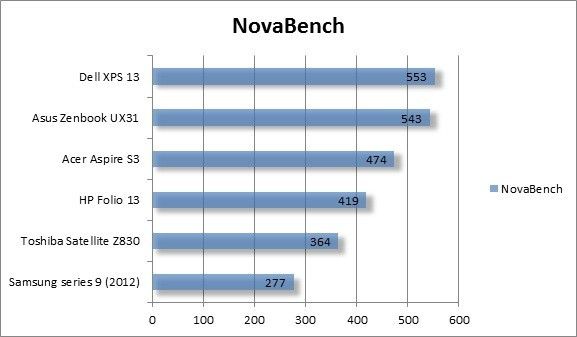 As with any, good battery life is vital and the Series 9, while not coming top of the class, is easily able to give six to seven hours of use on an average day. However, be warned, if you plan on watching a couple of Full HD movies on the Series 9 during a long flight, you can forget about it, as any intensive processes will wipe cut the battery life down to three hours or less. Restart and wake from sleep times were also on a par with most Ultrabooks, at an average of 15 seconds and 3 seconds respectively.
Samsung Series 9: Verdict
Samsung's latest ultraportable is a thing of beauty. It's aluminium unibody chassis, flawless build quality, light weight and slim profile all add up to make it one of the most desirable laptops we've ever seen. Add to this great connectivity and the best screen we've ever seen on a laptop in this class, and it seems like the Series 9 is a sure fire hit.
The £1,100 price tag will put some people off, and it does make it £100 or so more expensive than a comparable MacBook Air, so long the standard bearer in the ultraportable world. For most people £1,100 is a lot to spend on a laptop, but if you are willing to spend that much, we would recommend the Series 9 wholeheartedly.
Scores:
Overall: 9/10
Battery Life: 8/10
Design: 10/10
Performance: 8/10
Features: 9/10
Screen Quality: 10/10
Value: 8/10
The Good
Beautiful design
Best-in-class screen
Great connectivity
The Bad