Ultrabooks are the supermodels of the laptop market. How else can you describe machines with a sense of style, that keep an eye on their figure and yet need to succeed in a high-powered business? Thankfully, pitting a collection of Ultrabooks against each other doesn't end with a lot of slapping hands and clashing cheek bones.
With an Acer Aspire S3, an Asus Zenbook UX31, an HP Folio 13 and a Toshiba Satellite Z830 all strutting their stuff in our test it was like an episode of America's Next Top Model - with plenty of style and steel on show. So which is all form over function? And which should you be packing in your Burberry laptop bag?
Ultrabook Group Test: Design
Given that these machines were created to be as beautiful as they are practical, you won't be embarrassed pulling any of them out of your bag. Having said that, there are some design issues dating back to classic PCs still embedded within a couple of these Ultrabooks.
The HP Folio 13, for one, stands out from the chunky bag-filling laptops of yesteryear but fails to make an impression here. Yes, it is thin and yes it looks smart enough to be carried by CEO or hipster student, it just lacks the style that the term Ultrabook conjures up.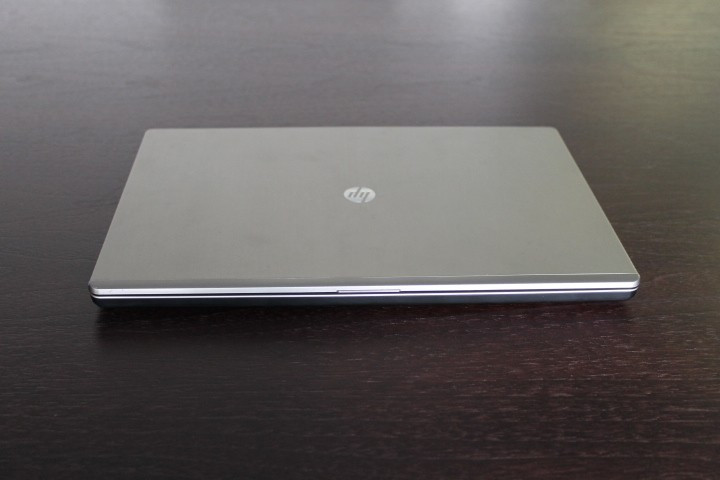 Similarly, the Toshiba Satellite Z830 may be a step up from the HP model in terms of its sleek design but it still feels a little too square, in both senses of the word. Even a machine this deliciously thin requires extra styling to stand out.
Things fair better with the Acer Aspire S3 and the Asus Zenbook UX31. The Asus design team has made their product a touch more rounded and pretty than the square Toshiba Ultrabook. Meanwhile, Acer has created a machine so thin it looks like you could place it on the hob and fry an egg on it. It's a compliment to suggest that the Aspire S3 wouldn't look out of place in an Apple store.
Build quality was generally good and the machines' ultra-thin form factors did not cause any actual problems, even if they did feel a little flimsy sometimes while we were handling them. This was particularly true of the Toshiba. The Asus, meanwhile, manages to feel heavy when compared to the other models, yet comes across as extremely well put together.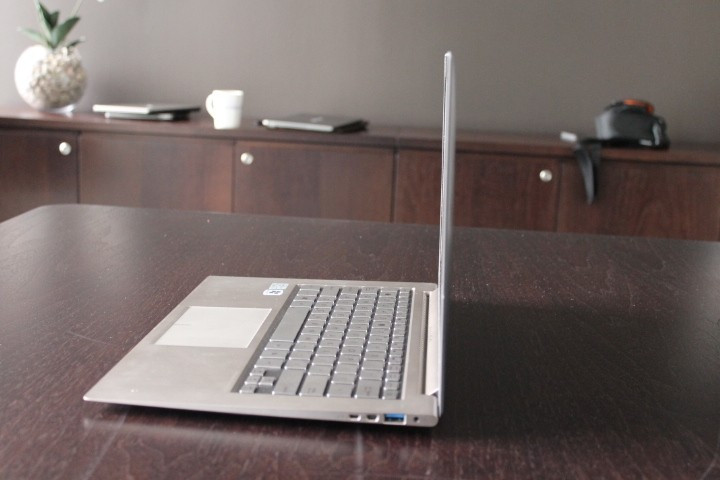 Ultrabook Group Test: Keyboard and touchpad
Our favourite keyboard belonged to the HP Folio 13, which was springy enough to get us typing at top speed. Toshiba's Satellite Z830 also has a usable keyboard even when you happened to have the ultrabook propped up on your lap in bed. The Satellite's touchpad is also very responsive and we prefer the inclusion of dedicated right and left mouse buttons as they make it easier than hitting the touchpad and hoping you get the right spot, as is the case with the Acer Aspire.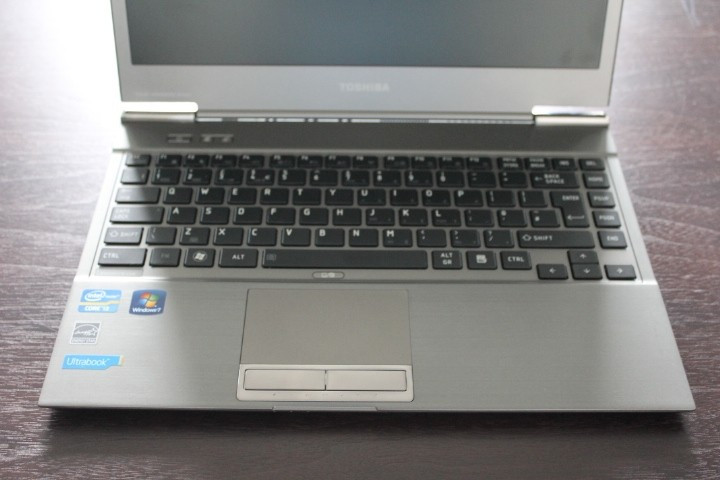 Unfortunately, we're not a fan of the keyboard on the Zenbook UX31, even down to the italicised font Asus has chosen for the keys. One problem with making thin computers is that the keys generally sit low and users are more likely to stumble and make mistakes as they type. We found the Zenbook most difficult to deal with in this way.
At least the separated areas of the touchpad work very well for right and left clicking - no dedicated buttons here. Pushing three fingers up the Zenbook's touchpad also swings all your open windows into a carousel for easy browsing. However, it is a shame the Delete button is so dangerously close to the power switch.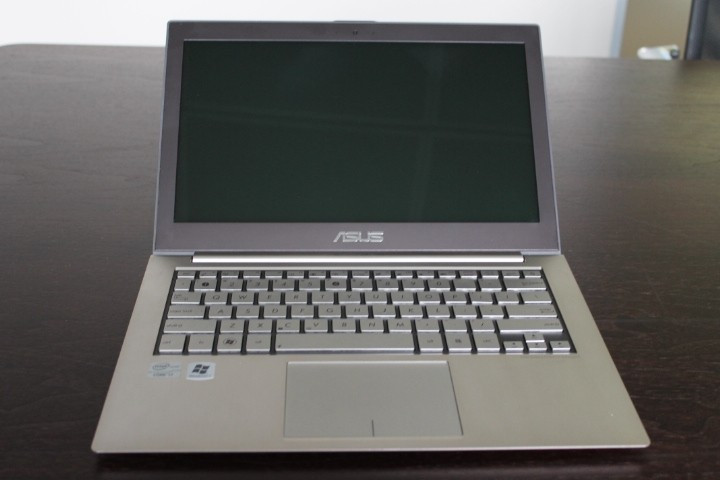 Ultrabook Group Test: Screen
Only the Toshiba Satellite Z830 is disappointing in this company. That's mainly down to poor viewing angles that make this a pain whether you are watching movies with friends or sharing a PowerPoint presentation with colleagues.
Both the Asus Zenbook UX31 and the HP Folio perform their tasks to a high standard and their displays are practical yet vibrant - with documents and movies both looking the part. Acer's crisp playback of movies did narrowly edge it ahead here, although there wasn't much to choose between the top three.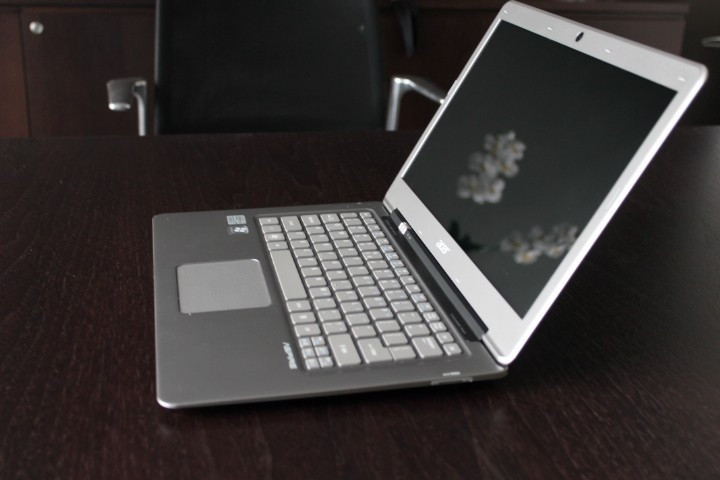 Ultrabook Group Test: Battery
The Acer Aspire S3 was the worst performer in this category by some margin. Embarrassingly failing to break the five hour mark by a few minutes it fell well short of the battery life of the other machines on test. The next best performer, the Asus Zenbook UX31, managed six hours and 25 minutes in comparison.
However, the clear winners were the HP Folio 13 and Toshiba Satellite Z830, which both clocked in with around seven hours of usage on a single charge. In the end HP took the crown with a time just a smidge over seven hours, while the Toshiba was very close behind having run out of juice just a few minutes sooner.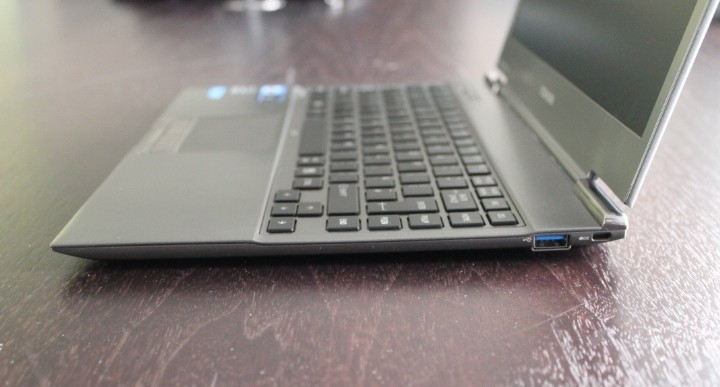 Ultrabook Group Test: Performance
The Toshiba Satellite Z830 we tested used an Intel Core i3 1.4GHz processor and 4GB Ram, although a more expensive version of this Ultrabook is available with a Core i5 chip and 6GB RAM inside. It would be wise to opt for that boost in specs if you were thinking about buying this model as in our benchmarking tests the Z830 scored a disappointing 364.
Both the Acer Aspire S3 and the HP Folio 13 offered the same specs, featuring a 1.6GHz Core i5 processor and 4GB RAM. It's surprising then that the two machines, running similar Windows profiles, achieved such different results. The Acer made much better use of its resources to deliver a benchmark score of 474, while the HP Folio lagged behind with an average figure of 419.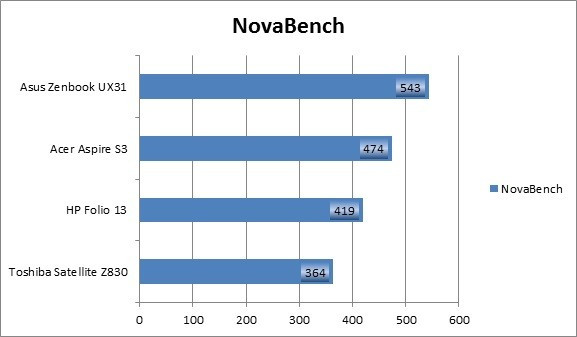 It's not surprising that Asus came top of our benchmark test, given that the Zenbook UX31 contained the best chipset of all the machines on test here. Its 1.8GHz Intel Core i7 dual-core processor and 4GB of RAM combined to help it a benchmark averaging out at 543.
Ultrabook Group Test: Connectivity
All of the ultrabooks on test share certain basic connections or ports. They all feature an SD card port for the easy transfer of files and a headphone port to shield your love of Ace Of Base from the wider populace. They also all sport a HDMI port to share high-definition content, although this is a micro-HDMI port on the Asus Zenbook.
Amazingly, the Acer Aspire S3 only adds two USB 2.0 ports to that configuration, not bothering with a dedicated wired internet connection or a port for a monitor. The HP Folio 13 doesn't fare much better, exchanging one of those ports for a faster USB 3.0 connection though it does include a wired Ethernet port. The Asus Zenbook UX31 almost matches the Folio's options completely, offering a general mini display port for a monitor in place of the RJ45 internet connection.
It's left to the Toshiba Satellite Z830 to show the others how it's done, bolting on not only a mic connection next to that headphone socket but also offering three USB slots, a wired RJ45 internet connection and a VGA display connector.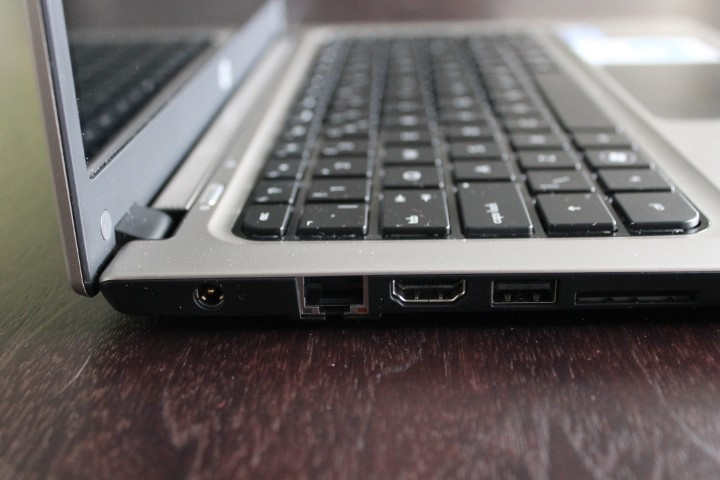 Ultrabook Group Test: Value/price
Given the current state of the economy you might have expected prices of Ultrabooks to have tumbled faster than Jack down a hill. Unfortunately, the desirability of the ultra-slim technology has kept them fairly high.
The Acer Aspire S3 wins on price, costing around £670 at reputable online retailers. The Toshiba Z830 isn't far ahead with a purchase price just below £700, while the HP Folio 13 sells for £720. Only the Asus Zenbook UX31 hovers around the £1,000 mark, although for that price you do get the 1.8GHz Intel Core i7 dual-core processor and the extra power that comes with it.
Ultrabook Group Test: Verdict
As a business machine we'd opt for the HP Folio 13. It wouldn't win many fashion awards against the company here but it offers outstanding battery life, a great screen and a very useable keyboard making it a fine addition to your office - especially if you have a HD monitor on your work desk for extended use.
For home use we'd choose the Toshiba Satellite Z830. With superior connection options - especially those three USB ports - it's an excellent desktop replacement machine. You may want to opt for the model with a Core i5 chip and 6GB RAM to boost its processing speed, though.
Purely on looks it would have to be the Acer Aspire S3. It may lack the connection options of its peers and come up short on battery life, but sometimes the heart wants what the heart wants. As the cheapest on test here it's also easy to justify the purchase.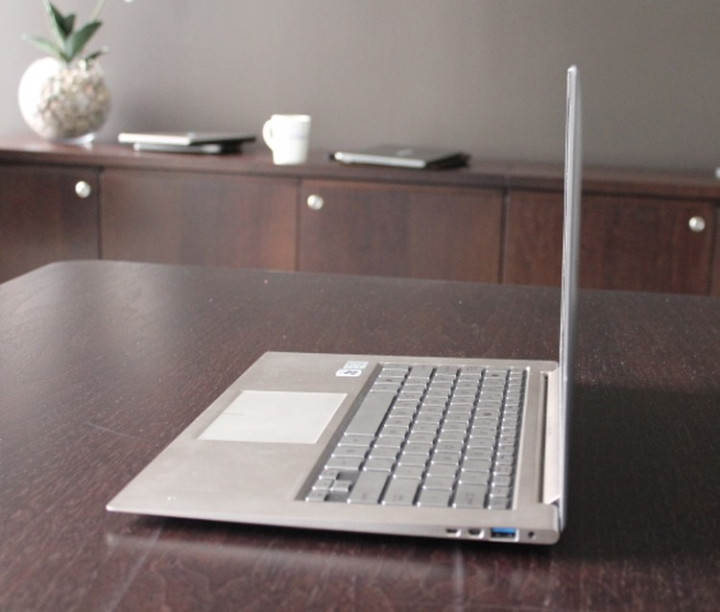 And for pure power the Asus Zenbook UX31 romped home in our benchmark test, thanks to its 1.8GHz processor. So depending on your needs there's a machine here for everyone.
Must Read: