Samsung has revealed yet another teaser, this time showing off a Windows 8 tablet just a day before the company kicks off its first of two press conferences at the IFA technology show in Berlin.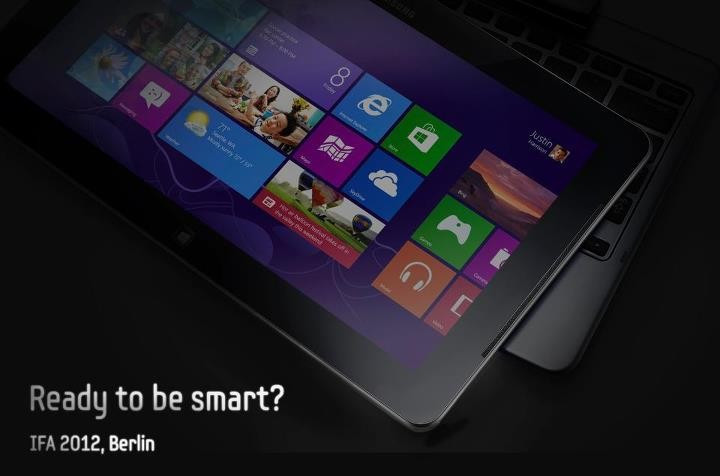 With the caption "Ready to be smart?", the image appeared on Samsung's Facebook page on Monday and shows a tablet running Windows 8 sat on top of a keyboard.
The tablet looks to be a similar size and aspect ratio to the Galaxy Note 10.1, with its widescreen display and stereo speakers, but with the addition of a Windows logo in the middle.
While the keyboard beneath could be a separate device, we think this tablet docks onto the keyboard to create a device similar to the Asus Transformer Pad, which offers a tablet and detachable keyboard with trackpad to turn it into a touchscreen laptop.
The image comes just two days after Samsung's last IFA teaser, a short trailer showing off what we first thought was a touchscreen laptop with an S-Pen stylus, but we now think that device could be the same convertible tablet/laptop running Windows 8 in the latest image.
Posted on Monday morning, the image has gained nearly 200 comments and more than 3,000 'Likes' on the company's Notebook Facebook page, prompting Samsung to say: "Hi everyone, great to see so much interest and excitement in our new arrival. Stay tuned to our channels for all the latest news from IFA 2012 as we reveal more."
Ahead of its IFA appearance, Samsung has also shown off teasers for a second-generation Galaxy Note smartphone, which is believed to feature a large 5.5in display and may run the newest Android operating system, Jelly Bean.
The South Korean company has an announcement called Mobile Unpacked scheduled for 17:00 BST on 29 August where we'll get to see the Galaxy Note 2 for the first time, with its stylus - no doubt similar to the Note 10.1's S-Pen - and stretched Galaxy S3 form factor.
Samsung is also expected to show off a new range of television sets to appear above its current ES8000 range and we're hoping to see some ultra-thin OLED televisions displayed at the Samsung booth as well.
A UK release date - and no doubt eye-watering price - for the 55in LED TV Samsung showed off at CES in January would also be welcome.
Must Read:
IFA 2012 Preview: What to Expect