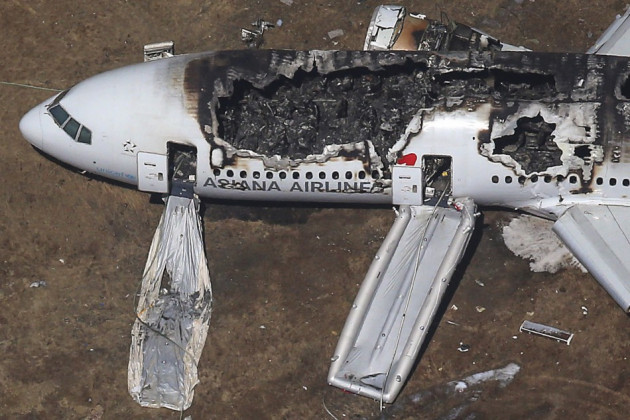 A Boeing 777 with 307 people on board has crash-landed at San Francisco international airport and burst into flames, killing at least two people.
Dozens of passengers are reported injured, and the exact cause is unknown.
The South Korean Asiana Airlines flight originated from Shanghai, and had a stopover at Seoul international airport.
San Francisco Mayor Ed Lee told reporters that all those on board, including the 16 crew members, have been accounted for.
Five of the injured passengers are believed to be in critical condition at a local hospital. According to the airline, 141 Chinese, 77 South Koreans and 61 Americans were on board; the nationalities of the remaining passengers have not been confirmed.
"We are working hard to deal with the aftermath of the accident. We feel very sorry for the accident," an official at South Korea's second largest airline said in a statement.
Federal and South Korean officials are to investigate the incident.
"We were called to the scene as well as units from San Francisco for what we, what had been categorised as a hard landing so our crews responded post the landing and our aircraft rescue firefighting equipment went to work right away applying foam and water to the fuselage," San Francisco fire department chief Joanne Hayes-White told a press conference.
Hayes-White said when they arrived on the scene, the chutes of the plane had already been deployed and they observed many people coming down and walking to safety.
FBI officials said there was no indication of terrorist involvement, but said they would join the investigation into the accident.
Initial speculation has focused on a technical glitch causing the crash. Experts have ruled out bad weather.