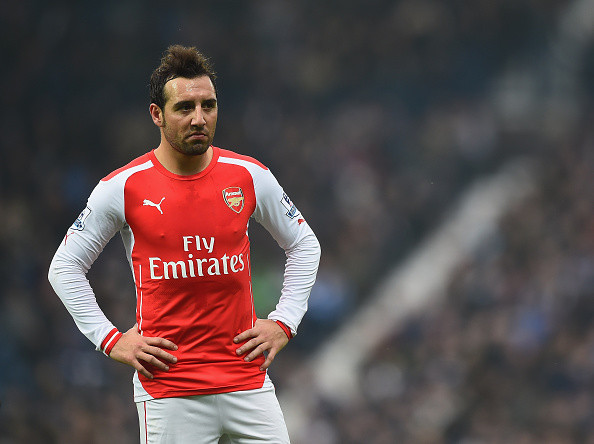 Santi Cazorla has claimed that Arsenal did not set out to abandon their passing game before the shock 2-0 Champions League win over Bayern Munich, but Pep Guardiola's forced them to use a counter-attacking plan B. The Spaniard also hailed Hector Bellerin's performance, tipping him to have a great future at both the Emirates Stadium and at the international level.
The Gunners put their opening two defeats against Dinamo Zagreb and Olympiacos behind them to secure three crucial points in that desperate quest to reach the Champions League last 16. The Bundesliga giants had 73% of the possession but Olivier Giroud and Mesut Ozil secured victory for the Premier League outfit with two late goals.
Asked whether they had planned to concede so much of the ball to Bayern before the game, Cazorla said: "No, we always have the idea to have the ball and take the initiative in the game.
"But when you play against a team like Bayern and against a team with a coach like Pep, who works very well with possession of the ball, you unconsciously play deeper," he said to Onda Cero.
"That was the tone of the game. They took the initiative and had the possession but we adapted really well to that, being closed in the back to counter-attack. And it went well, which was the most important thing.
"The first thing was to believe that we could win. You have to believe in the team. We came from a good dynamic after having overcome the blows from the first two games of the Champions League. We played with the conviction that we could win the game and the victory leaves us alive in the competition. We were aware that it was an ultimatum for us because not winning would have left us practically out."
Cazorla, nevertheless, claims that the Gunners still need to complete the job in the remaining three games as the Olympiacos win at Dinamo Zagreb left the Greeks level with Bayern at the top of the table, with six points from three games.
"Olympiacos's win has complicated our qualification a bit. We are aware that we have to add points in the three last games and hopefully we can go through to the next round. We have the example of today. The game at Munich will be similar. We have to be convinced that we can get a positive result, even a victory, in the stadium of one of the favourites to win the Champions League. We have shown that if the team play well we can beat anyone."
Meanwhile, Cazorla praised his compatriot Bellerin after the right-back assisted Ozil for the second goal of the game following an impressive run.
"Hector is enjoying a great spell . He is a player who will give a lot to the club and I think that also to the Spanish national team in the future. Hopefully he can continue this form."