Sarah Burton's Vivid Alexander McQueen Collection Steals Paris Fashion Week's Closing Show [PHOTOS]
Sarah Burton, the creative director of the Alexander McQueen fashion house, closed Paris Fashion Week on a splendid note - with extravagant and out-of-the-box creations.
The British designer presented a wonderful collection for her Spring/Summer 2013 women's ready-to-wear range, featuring colourful apparel and fabrics. The collection included jackets, skinny pants, corset tops clinched at the waist and tailored dresses. The presentation was equally stunning. Burton, who designed Kate Middleton's wedding dress, played around with the theme of honey bees in her collection.
The 38 year old designer's models wore headgear shaped like beekeepers' hats, with a honeycomb design and honeycomb-patterned stockings (where possible) and jacquard jackets. In addition, some of the colours used were inspired by colours like yellow, brown and honey-like caramel and honeycomb-like black.
Vogue described Burton's collection as being "certainly faithful to the late Alexander McQueen's templates" but added she "tends to look more to the positive creative forces of nature for her source material, and she's got a bit of another kind of life-force creativity going on in a personal way, too: She's pregnant, due in February".
The designer clarified, though, that while bees did not actually inspire her, the buzz of women at work in her studio may have had a subconscious impact.
Burton, who took over from Lee Alexander McQueen after his death in 2010, has been widely acclaimed for having increased her designs' influence on global fashion styles. She has created dresses for celebrities such as Michelle Obama, Cate Blanchett, Lady Gaga and Gwyneth Paltrow and, most famously, Kate Middleton, who has been credited with helping Burton discover a global appeal.
The Duchess of Cambridge has made several public appearances in dresses designed by the Alexander McQueen label and the two have also been credited with helping London become a leading fashion capital in recent years.
Check out photographs of Sarah Burton's show at the 2012 Paris Fashion Week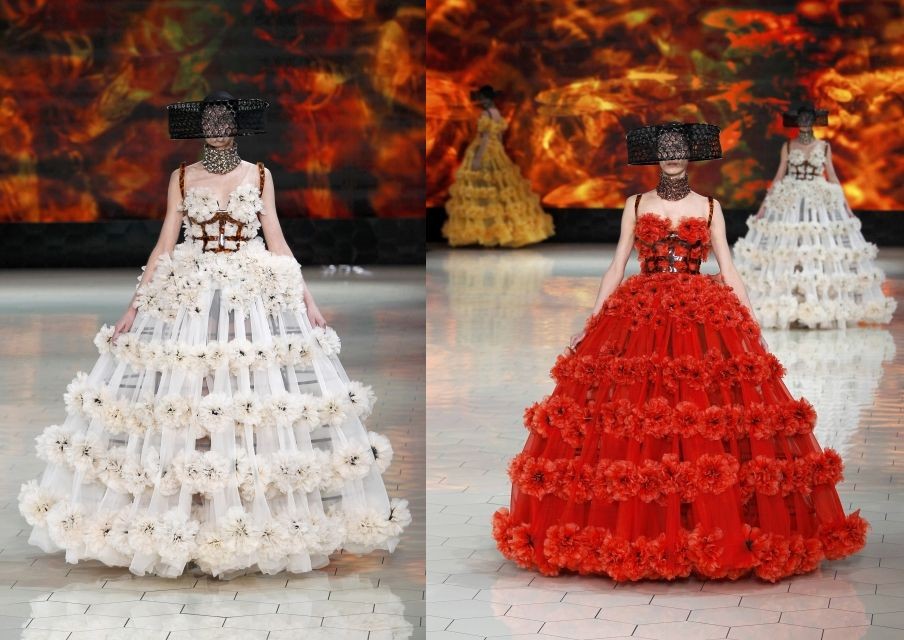 © Copyright IBTimes 2023. All rights reserved.