Sarah Harding crowned winner of Celebrity Big Brother amid 'fix' claims
The singer said she 'didn't believe this could happen' as viewers expressed outrage at the final result.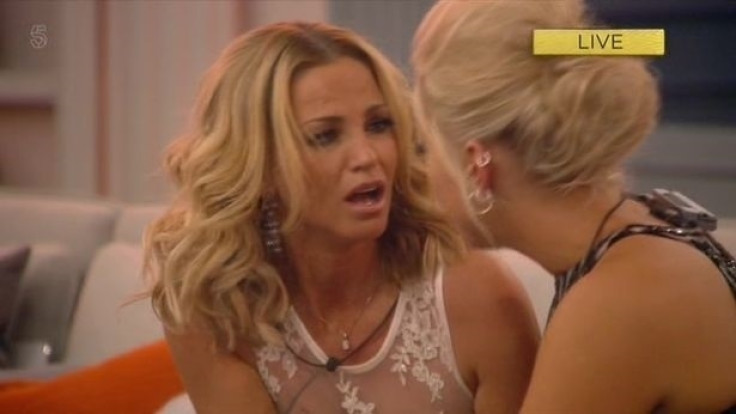 Sarah Harding has been crowned the winner of Celebrity Big Brother. The 35-year-old went head-to-head with X Factor star Amelia Lily after Sam Thompson, Derek Acorah, Jemma Lucy and Chad Johnson were voted out in the final.
The former Girls Aloud star looked stunned as CBB host Emma Willis announced her name declaring her the winner of the reality TV series. Hugging Amelia she broke down in tears in apparent disbelief at the result.
"Just thank you, thank you so, so much, I honestly didn't believe this could happen," she said.
However, the public too questioned the result as the star was met with boos and jeering from the crowd as she emerged from the house.
After hugging Chad Johnson, with whom she shared a much-publicised romance in the house, she was led straight into the studio to avoid the baying crowd.
Asked by Emma why she thinks she won Sarah said: "I have no idea, i have literally gone through the whole spectrum of emotions, maybe I was just real and honest to myself."
The singer was at the centre of controversy in the house after facing criticism for getting close to fellow contestant Chad, despite having a boyfriend outside the house.
She was seen canoodling with the 30-year-old Bachelorette star and apparently having sex in an x-rated romp televised to the nation.
She was later seen turning on Chad in a wild spat and lashing out at Jemma Lucy, prompting viewers to slam the Promise singer, branding her 'unstable' for her erratic behaviour and accusing her of staging a 'showmance.'
Reacting to the booing crowd she said: "We've had worse don't worry".
Addressing her controversial relationship with Chad, Sarah said: "I think we're just going to see what happens, we're definitely going to see more of each other."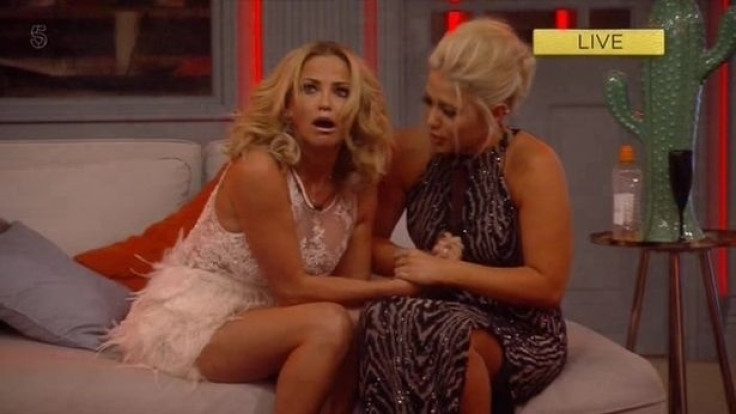 As she was declared the winner of CBB social media erupted with viewers accusing programme makers of 'fixing the result' and calling it an 'absolute joke.
"Seriously!!! Sorry but Sarah only won because she was in girls aloud!" said one disgruntled viewer.
"The irony of a woman who strung a man along winning #cbb," wrote another.
"Sarah won? Lol the biggest joke of 2017. I guess everyone felt sorry for her 'drinking mishaps'.
Trisha Paytas, who shocked viewers when she walked out of the house, fueled rumours that the show was rigged tweeting: "alright here it is. I will NOT stay silent. EXPOSING CELEBRITY BIG BROTHER (it's rigged) SUE ME. Ima sue u back"
Posting a video, Trisha who did not attend the live final, adds: "I'll probably get in trouble for this but it's 100% rigged."
In the 39 minute rant she explains: "I knew it was rigged from the set-up," adding that Sarah had 'a lot of special treatment in the house.
While viewers watched aghast at Sarah's drunken antics and her hysterical outbursts, many agreed she provided more entertainment value than her housemates.
"Deserving winner perfect way to end a good series she has had meltdowns, drama, drunken antics + found love she's mad + I love her❤️" said a fan.
Despite the negative response from the public, Sarah said she had no regrets about entering the house. "The main reason I wanted to come in and do this is to show people I'm just Sarah not the blond lairy one from Girls Aloud," she explained.
In third place was Sam Thompson, while Derek Acorah came in fourth. Jemma Lucy and Chad Johnson were the first to leave the house, coming in sixth and fifth place respectively.
The fix row comes amid rumours that this will be the last series of Celebrity Big Brother with Channel 5 threatening to axe the show over waning viewer figures.
© Copyright IBTimes 2023. All rights reserved.