ANKARA, Turkey — A pro-government Turkish newspaper has published a gruesome account of the alleged slaying of Saudi writer Jamal Khashoggi at the Saudi Consulate in Istanbul, just as America's top diplomat arrived in the country for talks over the Washington Post columnist's disappearance.
The report by Yeni Safak adds to the ever-increasing pressure on Saudi Arabia to explain what happened to Khashoggi, who vanished October 2 while visiting the consulate to pick up paperwork he needed to get married. The Yeni Safak report cited what it described as an audio recording of Khashoggi's slaying, which it said showed the writer was tortured.
The newspaper said Saudi Consul General Mohammed al-Otaibi could be heard on the tape, telling those allegedly torturing Khashoggi: "Do this outside; you're going to get me in trouble."
The newspaper said one of the Saudis torturing Khashoggi replied: "Shut up if you want to live when you return to (Saudi) Arabia."
According to Middle East Eye, Khashoggi was still alive as Saudi forensics expert Salah Muhammad al-Tubaigy started to dismember the journalist on a table.
A Turkish source told MEE as he started to dismember the body, Tubaigy put on earphones and listened to music. He advised other members of the squad to do the same.
"When I do this job, I listen to music. You should do [that] too."
Earlier this week the New York Times reported another Turkish source who claimed that Tubaigy arrived in Istanbul equipped with a bone saw. Tubaigy, who is listed as the president of the Saudi Fellowship of Forensic Pathology and a member of the Saudi Association for Forensic Pathology, was part of a 15-man unit that arrived in Turkey aboard two private jets the night before Kashoggi's disappearance.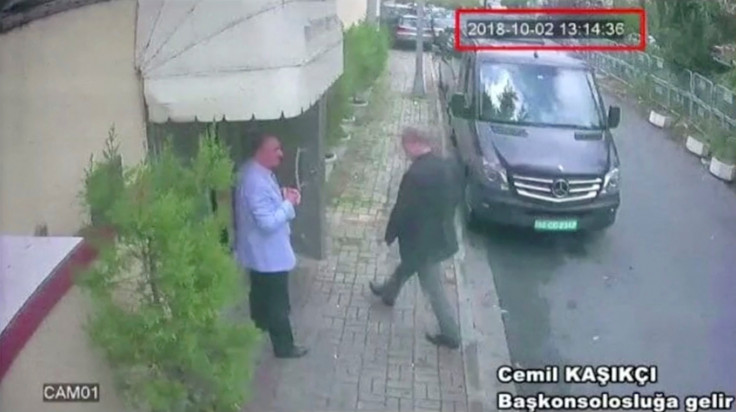 On Tuesday, a high-level Turkish official told the AP that police found "certain evidence" of Khashoggi's slaying at the consulate, without elaborating. The official spoke on condition of anonymity because the investigation was ongoing.
Security services in Turkey have used pro-government media to leak details of Khashoggi's case, adding to the pressure on the kingdom.
U.S. Secretary of State Mike Pompeo held separate meetings with Turkey's president and foreign minister for around 40 minutes each on Wednesday in the Turkish capital, Ankara. No details were immediately released about the talks with President Recep Tayyip Erdogan and Foreign Minister Mevlut Cavusoglu. The three posed for photos, but said nothing in front of reporters.
Pompeo met with Saudi King Salman and his son, the 33-year-old Crown Prince Mohammed bin Salman, on Tuesday. Before leaving Riyadh, Pompeo told reporters that the Saudi leaders "made no exceptions on who they would hold accountable."
"They made a commitment to hold anyone connected to any wrongdoing that may be found accountable for that, whether they are a senior officer or official," Pompeo said.
No major decisions are made outside of the ultraconservative kingdom's ruling Al Saud family. Khashoggi had fled the country last year amid the rise of Prince Mohammed, whom he wrote critically about in the Post.
President Donald Trump, who earlier warned of "severe punishment" if the kingdom was found culpable for Khashoggi's disappearance, criticized the allegations against the kingdom and compared it to the accusations of sexual assault leveled against now-Supreme Court Justice Brett Kavanaugh during his confirmation hearing.
"Here we go again with you're guilty until proven innocent," Trump told the AP in an interview.
That attitude does not appear to be shared with Congress, as one prominent Republican senator said he believed that the crown prince, widely known as MBS, had Khashoggi "murdered."
"This guy has got to go," said Sen. Lindsey Graham, a Republican from South Carolina, speaking on Fox television. "Saudi Arabia, if you're listening, there are a lot of good people you can choose, but MBS has tainted your country and tainted himself."
Nils Melzer, the U.N. special investigator on torture, said that if Turkey and Saudi Arabia can't conduct "a credible and objective investigation," then international involvement may be needed.
Trump's previous warnings over the case drew an angry response Sunday from Saudi Arabia and its state-linked media, including a suggestion that Riyadh could wield its oil production as a weapon. The U.S. president has been after King Salman and OPEC to boost production to drive down high oil prices, caused in part by the coming re-imposition of oil sanctions on Iran.
Prominent U.S. newspapers have reported, citing anonymous sources, that Saudi officials may soon acknowledge Khashoggi's slaying at the consulate but blame it on a botched intelligence operation.
That could, like Trump's softening comments, seek to give the kingdom a way out of the global firestorm of criticism over Khashoggi's fate.