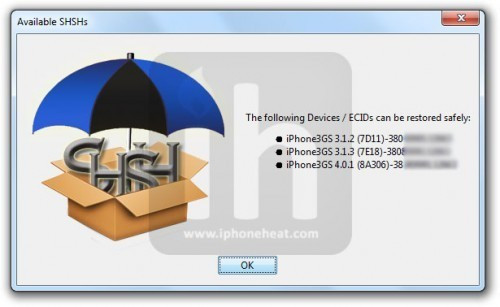 Apple recently released its latest iOS 6.1.2 update and it is time to prepare for a future downgrade as Apple is constantly plugging the security exploits used in recent evasi0n jailbreak. With due credit to Notcom (aka semaphore) a new version of TinyUmbrella (v6.12.00) is now available for download, which brings support for saving SHSH blobs in iOS 6.1.2 that was released just a week ago. It is now imperative to safeguard existing jailbreak tweaks and apps by saving the necessary SHSH blobs, as it could help you restore the original firmware when needed.
Downloads
Warning iOS users against updating their devices to the latest iOS 6.1.3 firmware, semaphore (the developer of TinyUmbrella) had this to say in this recent blog post:
"TinyUmbrella has been updated to work with iOS 6.1.2 on relevant devices. Make sure you don't update to 6.1.3 when it drops. I wasn't able to get 6.1.3 beta included (I just got too busy). But if you desire to keep your jailbreak, avoid 6.1.3 like the plague."
Check out our step-by-step guide below to save iOS 6.1.2 SHSH blobs for a future downgrade from higher iOS versions:
Step 1: Save the downloaded TinyUmbrella file to the desktop and double-click the executable app icon to begin initialisation.
Step 2: Connect the device (iPad, iPhone or iPod Touch) to computer with the USB cable to save its SHSH blobs.
Step 3: Browse to top-left-hand corner of TinyUmbrella app and choose device.
Step 4: Click Advanced tab, and uncheck or disable the following options:
Step 5: Assign a dedicated save SHSH directory by creating an SHSH folder on the desktop. This will ease the effort in finding backed up SHSH blobs for future use.
Step 6: Click the Log tab to view the status of earlier save attempts for SHSH blobs.
Step 7: Proceed to the actual step of saving the blobs. Hit save SHSH, and TinyUmbrella will attempt saving SHSH blobs for iOS 6.1.2 (or any latest iOS firmware that Apple is signing) to the directory you created in step 5. A message reading "SHSH SUCCESSFULLY SAVED" will appear on screen if the process finished correctly.
Step 8: Open the SHSH folder on the desktop (created in step 5), and check if the necessary SHSH blob is available. Ensure that the blob is named appropriately with the correct device name and firmware version number.
NOTE: The instructions provided in this guide are limited to save the currently signed firmware only, and hence it does not recover previously saved SHSH blobs that Apple is no longer signing. However, if you want to do so, just keep both the options checked in step 4.
Do not forget to periodically back up the folder containing SHSH blobs to a safer location such as Dropbox. In future, if the device becomes inaccessible or needs to be formatted, then you can easily restore the device using SHSH blobs from an external storage medium.
[Source: iDownloadBlog]