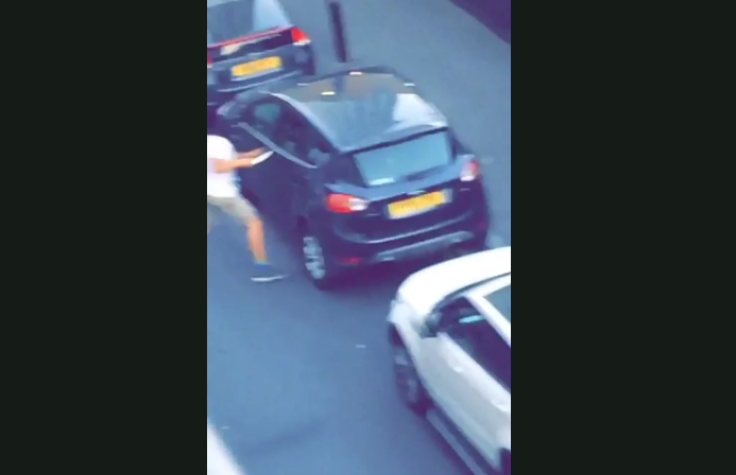 Footage of a masked man attacking someone in a car with a knife in London has surfaced. The incident occurred on the night of Wednesday 5 July in the Isle of Dogs area, east London.
The short clip shows a man wearing a balaclava and a white shirt approaching the vehicle and repeatedly lunging with the knife through the window before fleeing the scene. The origin of the video is not known but it was posted to Facebook by Kabir Hussain.
The attack took place after the driver had parked his car. Three men approached the vehicle and one of them allegedly broke a window before the knife attack took place.
The victim, believed to be aged 20, suffered minor injuries, according to the London Evening Standard. A passenger travelling next to the driver also suffered a scratch to his arm. The motive of the attack is not known yet and police are investigating the incident.
"Detectives in Tower Hamlets are investigating an attempted GBH [Grievous bodily harm ] in Cuba Street, the Isle of Dogs at about 9pm on Wednesday, July 5," a police spokesperson was quoted as saying. "The injuries are not life-changing or threatening. Enquiries continue."
The attack took place the same day the Metropolitan Police released a video of a man believed to be connected to a stabbing attack occurred in east London in May. An unidentified man stabbed a 17-year-old boy in an unprovoked attack in broad daylight in Newham.
"The victim was taken to an east London hospital suffering injuries including a punctured lung, where he received treatment prior to being discharged several days later," the police said in a statement. "The motive for the attack is unknown - nothing was stolen. Anyone who recognises the male shown in the CCTV should call officers at Newham CID via 101."