The Wellcome Image Awards are celebrating their 20th year of recognising the world's most incredible science images. This year's awards include a broader range of cutting-edge artistic and scientific techniques than ever before. From photography and illustration to super-resolution microscopy and medical scans, the images use a variety of methods to capture the imagination and bring complex concepts to life.
This year's 22 award-winning images include a 3D model of a pig's eyeball, a glimpse at the intricate system of blood vessels inside an African grey parrot and a fascinating visualisation of Twitter conversations about breast cancer. The awards will be presented at a ceremony on 15 March 2017 where the overall winner will also be revealed. They will be shown at exhibitions held across the UK and internationally, including Russia and South Africa. The images will also be displayed in the windows of Wellcome's HQ in London.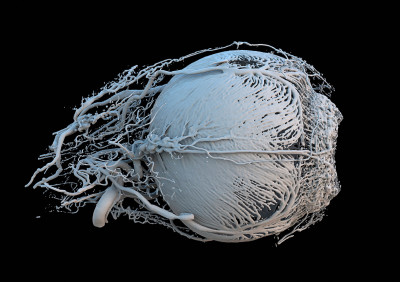 The Wellcome Image Awards were established in 1997 to reward contributors to the Wellcome Images collection for their outstanding work. Over the past 20 years as science and technology has progressed, the awards have embraced new styles and pushed the boundaries of science image making.