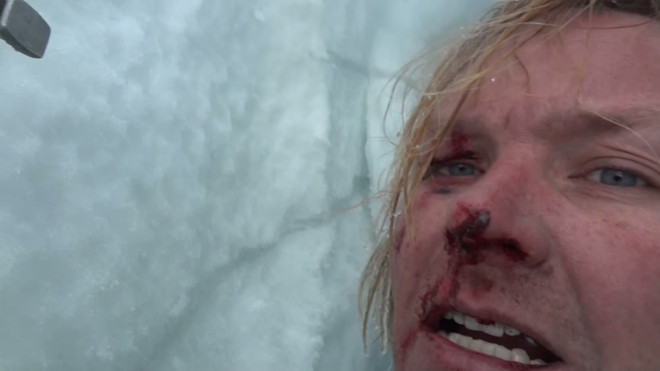 A dramatic video has emerged showing an American scientist who fell 70ft into a crevasse in the Himalayas in a desperate bid to save his life.
In a story reminiscent of the events that inspired the Hollywood movie 127 Hours, Professor John All, a researcher at Western Kentucky University, fell – and survived – while conducting climate research on Mount Himlung on Monday. He broke his arm, five ribs and dislocated his shoulder during the fall.
He later posted videos, recorded from within the crevasse on his mobile phone, before crawling back to the surface and waiting for a helicopter to rescue him the following morning.
"I'm pretty well f*****," All says into the camera. "I fell through that hole, thankfully I didn't keep falling that way." He then aims the camera down towards the blackness beneath him. "I got trapped here instead, on this ledge. My arm, I can't use. I have to somehow climb out that way," he says, looking upwards toward the light.
All managed to make it out of the hole around five hours later. He captured his journey for survival in a series of videos he posted on YouTube.
"It probably took me four or five hours to climb out. I kept moving sideways, slightly up, sideways, slightly up, until I found an area where there was enough hard snow that I could get an axe in and pull myself up and over," he said in an interview after his rescue.
"I knew that if I fell at any time in that entire four or five hours, I, of course, was going to fall all the way to the bottom of the crevasse. Any mistake, or any sort of rest or anything, I was going to die."
All is an associate professor in WKU's Department of Geography and Geology and director of the American Climber Science Program, a research and conservation programme of the American Alpine Club.
He had been due to climb Mount Everest this spring, but after a deadly avalanche shut down the season he took his research to Mount Himlung.
He posted on his Facebook page from his hospital bed in Kathmandu after his rescue, thanking his rescuers.