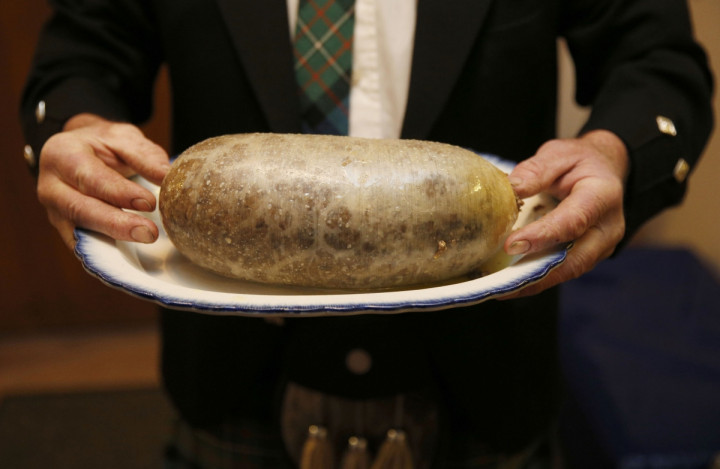 In 1989, the Berlin Wall fell to mark the end of decades of communist tyranny in Europe. Iran's Ayatollah Khomeini issued his infamous fatwa against the author Salman Rushdie.
And the US effectively banned haggis imports from Scotland because it was worried about the health dangers from British beef and lamb amid the BSE crisis. So it outlawed the imports of both.
Now, a quarter of a century on, Vladimir Putin's Russia looks to be rekindling its former Soviet expansionism. The Rushdie fatwa has long been lifted. And the US may soon end its embargo on the Scottish national dish by allowing imports of British lamb offal.
Owen Paterson, the UK's environment secretary, is planning to lobby his opposite in the US government, Tom Vilsack, to lift the ban on lamb when the pair meet.
"I share many haggis producers' disappointment that American diners are currently unable to enjoy the taste of Scotland's wonderful national dish in their own country," he said, adding that "so many Americans enjoy celebrating their Scottish heritage".
Richard Lochhead, Scottish Food Secretary, said that the nine million Americans with Scottish ancestry means there "is clearly an appetite in the US for haggis made to traditional recipes".
Haggis is a sort of sausage-meets-meatball. The traditional haggis includes minced and spiced sheep's offal blended together with oatmeal and stuffed in a sheep's intestines. It should be served with "neeps and tatties", aka turnips and potatoes.
Sheep's lungs, a key ingredient of haggis, from Britain were actually banned by the US in 1971 over different health concerns to BSE. A full ban on British lamb only came into effect in 1989.
Scotland's haggis industry is excited about the potential opening up of another market.
"The opportunities for exporting our haggis into the American market are very exciting and I am delighted to hear progress is being made in this respect," said James Macsween, boss of haggis maker Macsween of Edinburgh.
"With the huge popularity in the US of all things Scottish, hopefully these negotiations will allow American consumers the chance to finally taste authentic, high-quality Macsween haggis very soon."
The Scottish are set to vote in a referendum on independence from the UK. The government is trying to show why staying in the UK is beneficial to Scots.
Paterson's move to paint an ending of the US import ban on lamb and sheep's offal as about haggis is another example in its attempt to make the case for maintaining the union.
He may now find some success after years of the UK pushing the US to end its ban on beef and lamb imports.
The US government has repeatedly said it wants Scotland to remain a part of the UK. Importing traditional haggis again, at the urges of the Westminster government, may convince some undecided Scots on staying in the UK.