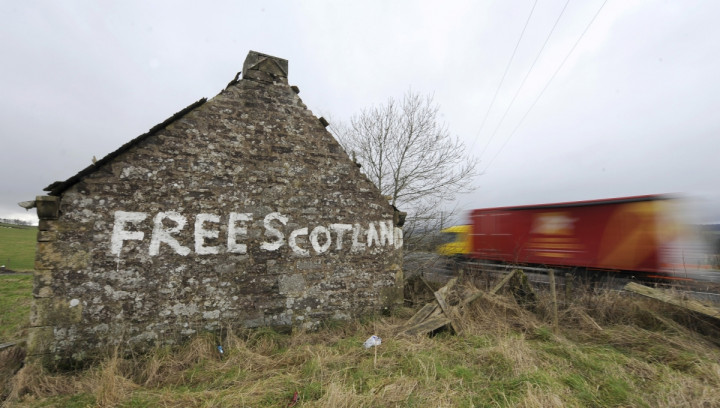 The British government has claimed that hundreds of companies will leave Scotland, trade ties will be severed, and the country will lose the pound, if the nation decides to end its 307-year union with the UK.
As part of Whitehall's massive 1,400-page report on how Scotland contributes to and benefits from being part of the UK, the government said it gathered and analysed the opinions of hundreds of independent experts and organisations on what a separate Scotland would mean for individuals, businesses and other organisations.
"People need to be informed about the consequences of the Scottish referendum. That's why we have undertaken the most rigorous and comprehensive analysis of Scotland's place in the UK ever attempted. You might call it 'Project Fact' - over 1,400 pages of analysis citing hundreds of independent experts and organisations," said Chief Secretary to the Treasury, Danny Alexander, in a statement.
"The conclusion is clear: almost every aspect of life in Scotland is enhanced and improved because we are part of the UK.
"That's why we will share these conclusions with people in Scotland through the UK government's public information campaign, with a booklet going to every home in Scotland over the next few months."
Scottish people will vote in an independence referendum on 18 September this year and will be asked the straight "yes/no" question: "Should Scotland be an independent country?"
The referendum period started on 30 May. Latest polls show that the gap between a 'Yes' and a 'No' vote are rapidly closing.
Report Highlights
The new government report said that Scotland has the best of both worlds, as part of the UK, as it can make its own decisions in devolved areas, while sharing risks and resources with the other parts of the UK.
Whitehall added that more than 200 UK public institutions serve people in Scotland, but if the country decided to go it alone, it would lead to flight of businesses and investment.
It added that the reason for this is because Scotland would lose the pound, in the event of independence, as "it would not be possible to recreate today's arrangements if that political union did not exist."
"That is why all three of the largest political parties in the UK have ruled out sharing the pound or the Bank of England in a formal currency union," it added.
Moreover, the UK Treasury claims that evidence points towards Scotland benefiting from lower taxes and higher public spending when it is part of the UK, compared to being an independent nation.
HM Treasury estimates that this is worth £1,400 (€1,747, $2,382) per year for each person in Scotland and calls it a UK Dividend.