Scottish Independence Rival Visions: William McIlvanney and Allan Massie Publish Pamphlets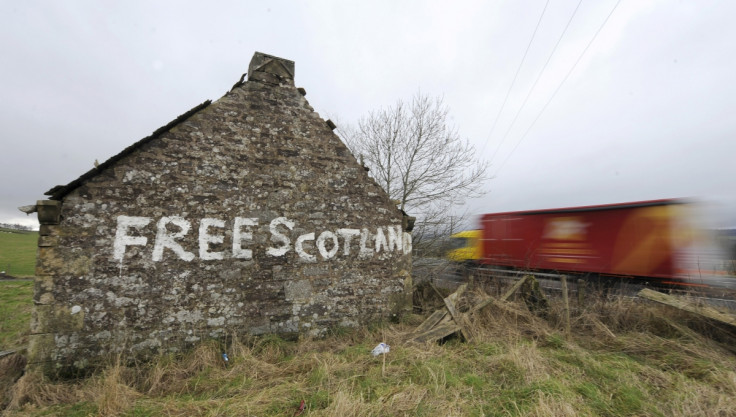 Two leading Scottish authors have added fuel to the fire in the debate over Scottish independence as they published pamphlets that oppose each other's views.
Dreaming Scotland, authored by renowned poet William Mcllvanney, lists his reasons why the Scottish public should vote 'yes', while serial novelist Allan Massie outlines the reasons why people should vote against the independence referendum in Nevertheless, both published in Scottish heritage publication; Saltire Society.
Massey, who has written over 30 books since his rise to prominence in the late 1970s, argues that the vote boils down to an identity crisis amongst the public north of the border.
"It is, for me, a matter of self-confidence. If you feel the lack of that, you will vote for independence," is the conclusion of Massie's pamphlet.
"If you feel confident of Scotland's ability to remain Scottish and prosper in the Union, you will agree that we are indeed Better Together and vote 'No'."
Mcllvanney, who has narrated on documentaries for BBC Scotland, counters Massey's arguments, saying that now is the time for Scotland to come of age.
"Politically, Scotland's like a living entity which has been cryogenically frozen and stored within the UK for over 300 years," he writes.
"Isn't it time to come out of history's deep-freeze and explore for ourselves who we really are? Whatever that reality turns out to be, let's confront it.
"It's time to grow up and take full responsibility for ourselves. A 'Yes' vote would do that."
The pamphlets were published in the build-up to an evening at the end of July which will see the pair discuss the referendum.
"We wanted personal reflections rather than polemics," said Saltire Society executive director Jim Tough.
"I think they dig that bit more deeply into what motivates people to vote one way or the other at a more instinctive level.
There is not much in between those who plan to vote 'yes' or 'no' in the build up to the referendum, due to take place in September.
According to a TNS poll of 995 adults, the 'Yes' vote for independence swelled by two points, hitting 32%, while 41% said they'd still reject the bid for an independent Scotland. This is a one point drop from last month.
© Copyright IBTimes 2023. All rights reserved.