Scottish Independence: Standard Life Calms Customer Fears With Precautionary Measures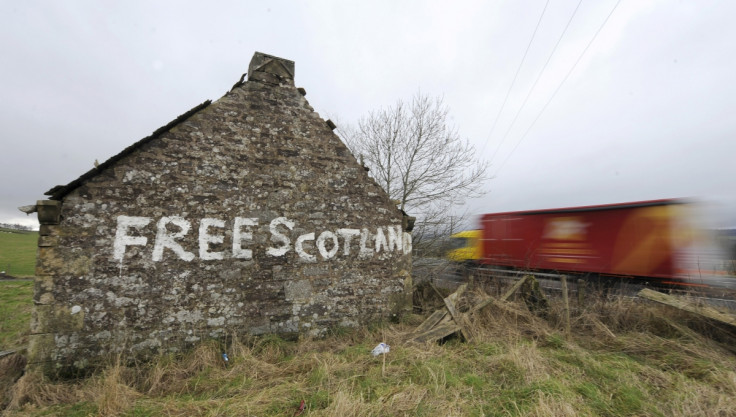 Standard Life has revealed that it has put in place "precautionary measures" to tackle any disruption Scotland would cause if voters opted for independence.
In a bid to calm investor nerves, Standard Life's chief executive David Nish told customers that the group is prepared to move large chunks of its business to England, should Scotland chose to break the 307-year old union in just over a week's time.
"Standard Life has a long history in Scotland – a heritage of which we are very proud and we hope that this continues but our responsibility is to protect the interests of our customers, our shareholders, our people and other stakeholders in our business," said Nish.
"The plans we have put in place will help to ensure continuity and peace of mind for all our stakeholder groups. This includes planning for new regulated companies in England to which we could transfer parts of our business if there was a need to do so."
Scottish people will vote in an independence referendum on 18 September, 2014, and will be asked the straight "yes/no" question: "Should Scotland be an independent country?"
Standard Life's Back Up PLan
Scotland's financial services industry employs 100,000 people. Standard Life has around 5,000 staff based in Scotland as it manages more than £254.1bn (€319.3bn, $428.1bn). Around 90% of clients are based outside Scotland.
Since February this year, Standard Life has been very outspoken over its concerns that the lack of clarity on how an independent Scotland would function, would wreck the economy.
Standard Life's Main Concerns
The currency that an independent Scotland would use
Whether agreement and ratification of an independent Scotland's membership to the European Union would be achieved by the assumed target date (currently 24 March 2016)
The shape and role of the monetary system going forward
The arrangements for financial services regulation and consumer protection in an independent Scotland
The approach to individual taxation, especially around savings and pensions.
However, it has openly told the markets that it has been working on a contingency plan, should Scots decide to vote for independence. This would largely consist of it moving most of its business south of the border:
- All transactions with customers outside of Scotland continue to be in Sterling (money paid in and money paid out)
- All customers outside of Scotland continue to be part of the UK tax regime
- All customers outside of Scotland continue to be covered by existing consumer protection and regulatory arrangements e.g. the Financial Services Compensation Scheme and Financial Conduct Authority
"We will continue to serve our customers in Scotland and will consider what additional measures we may need to take on their behalf as a consequence of constitutional change once further clarity and certainty is received," said Nish.
"Standard Life will continue to be listed on the London Stock Exchange. There will be no change to the way in which share dividends are paid to shareholders.
"If the referendum result is supportive of Scotland remaining part of the United Kingdom, resulting in the devolution of further powers as seems likely, we will monitor any impact that this may have on our stakeholders and take whatever action we feel is required."
© Copyright IBTimes 2023. All rights reserved.