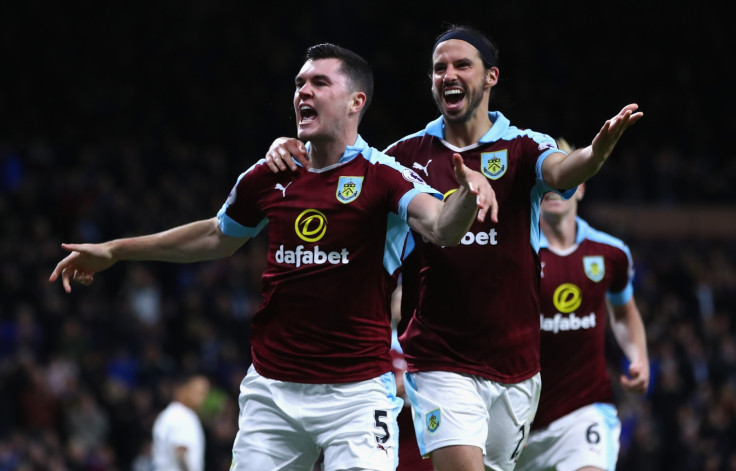 Sean Dyche has reiterated that Michael Keane is still not for sale, as interest in the Burnley centre-back continues to mount amid an impressive run of form. The 23-year-old, twin brother of Hull City striker Will, has become an instrumental figure at Turf Moor since arriving permanently from Manchester United in January 2015 following a promising loan spell. He subsequently emerged as a prominent target for Premier League champions Leicester City during the summer transfer window after helping guide the Clarets back to the Premier League.
Newly-promoted Burnley managed to retain Keane's services despite reportedly receiving bids worth up to £15m ($19.4m), although his stellar performances in the top-flight appear to have attracted at least one new high-profile suitor since then. According to the Daily Mail, Antonio Conte has identified the former England U21 international as a potential solution to his current defensive woes, and that could lead to Chelsea submitting a formal offer in the region of £25m.
It is believed that such a handsome sum would be difficult for Burnley to reject. However, Dyche remains optimistic that Keane, who pledged his future to the club after scoring their second goal in a 2-0 win over Watford on Monday night (26 September), will be content to remain in Lancashire for the foreseeable future.
"We've made it clear he's not for sale, among others who are not for sale, and he's still at the club so that's ongoing," he told reporters at a pre-match press conference held prior to Sunday's meeting with Arsenal, a match that will see Arsene Wenger celebrate two decades in charge of the Gunners.
"There's a balance. It's a kind of respect in a way, that people recognise some of our players are doing well but there's also that little bit where you think 'we're not actively selling players'. We don't want to lose players. Situations can become unsettled but Keano's been really clear-minded throughout the summer."
Like seemingly every other Premier League manager in the aftermath of Sam Allardyce's shock premature departure on Tuesday, Dyche also fielded questions about the vacant England position. The former Watford boss was only ever likely to be considered as a rank outsider despite his impressive work with Burnley and he concedes that there are better candidates to take on a most difficult job.
"You'd want to have a go at the England job, but my CV is not deep enough, I don't feel, to take that on now," he said. "I could in the sense of 'go on, I could have a go' but you want to be in a position in anything in life when you've got the depth of knowledge and experience to actually achieve something, not just take it on because you can.
"It's not that I wouldn't want to do it ever, because I would somewhere down the line if it ever came my way. But I think you have to have the layers in place to make a success of it. There are other people out there at the moment who are in a better place to take on a challenge like that."