Sean Spicer announces first US-UK meeting and continues to battle press
White House press secretary blasts the media's portrayal of a rift between Trump and the intel community.
The first official White House briefing kicked off on "day one" of the Trump administration on Monday (23 January) with White House Press Secretary Sean Spicer outlining the president's executive actions and answering questions on everything from trade deals to immigration to his relationship with the press.
The White House announced that its first meeting with a foreign leader will be on Friday (27 January) with UK Prime Minister Theresa May. Trump and May are expected to speak about a possible trade agreement between the US and the UK, Spicer said, but did not provide a concrete plan for discussions.
"We've always had a special relationship with [the UK]," Spicer said, noting that the meeting reflects that relationship.
Spicer, who had a contentious first meeting with the press last week, confirmed that President Donald Trump had signed several presidential memorandums, including removing the US from the Trans-Pacific Partnership (TPP) trade deal, reinstating the Mexico City policy and ordering a federal hiring freeze. Trump has been very vocal of his opposition of the TPP deal, though his memorandum is largely symbolic as it has not be ratified by the Senate.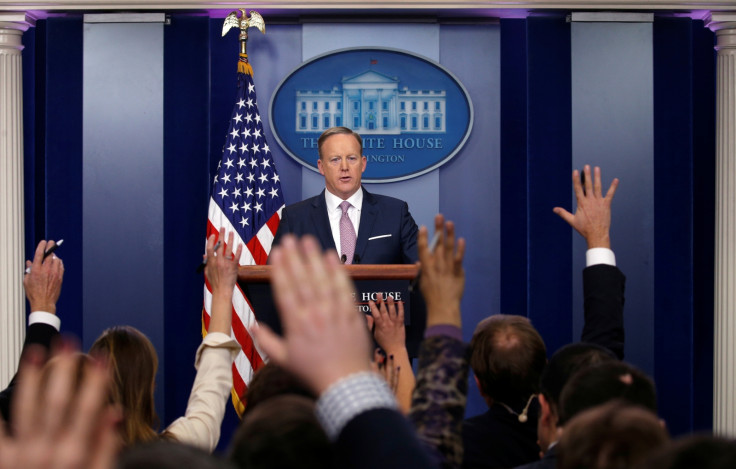 Trump held a meeting with "key US business leaders" earlier on Monday to discuss job creation, Spicer revealed. Several companies were involved, including Johnson & Johnson, Lockheed Martin and Whirlpool. The president plans to reconvene the meeting in a month and hold quarterly meetings to continue to develop business expansion and jobs in the US.
Union leaders from a number of organisations will meet with Trump later in the day. The president is "dedicated to growing and deepening support" among union workers, Spicer said. The press secretary added that Trump is a "listening president" who is looking to "make people's lives better".
Spicer revealed that Trump also spoke to Egyptian President Abdel Fattah el-Sisi to discuss the US and Egypt relationship. The two leaders spoke in depth about Egypt's efforts to fight terrorism and Sisi's work to improve Egypt's economy.
The press secretary also said Trump would be willing to work with any government, including Russia, to combat terrorism.
The most contentious moments came when Spicer took questions from ABC News' Chief White House Correspondent Jonathan Karl, who pointedly asked Spicer whether he intends to intentionally deliver lies from the podium of the White House press room.
"Is it your intention to always tell the truth from that podium and will you pledge never to knowingly say something that is not factual?" Karl asked.
"Yes, I believe we have to be honest the American people," Spicer adamantly said. "I think sometimes you can disagree with the facts. There are certain things that we may miss...that we may not fully understand, but our intention is never to lie to you."
He added that the Trump administration deserves the same right as the press to give the public "the facts as we know it". Spicer said: "We have a right to go out there and correct the record."
Spicer went on to repeat the administration's past talking points on Israel, immigration and economic issues. Though not as combative as his first appearance before the press, Spicer continued to bash the press for attempting to "undercut" Trump and delegitimise his presidency.
© Copyright IBTimes 2023. All rights reserved.