Prime Minister Theresa May and US President Donald Trump are set to hold talks on a US-UK trade deal that may see tariffs slashed and pave the way for workers to easily move between both countries.
One of the options being discussed in Whitehall is to cut, or even completely do away with tariffs on items Britain and the US already export to one another, The Telegraph reports. May will fly out to Washington DC on Thursday (26 January).
The newspaper cited sources as saying that May also wants to explore ways to make it easier for US and UK citizens to work in both countries.
"We can grow those numbers," a senior Government source told The Telegraph. Around one million Americans are living and working in the UK and a similar number of Britons are in the US, the newspaper said.
Whitehall insiders also said that officials will also go through goods that both countries already trade with each other and discuss lowering or even removing tariffs altogether on these items.
Theresa May is expected to be the first foreign leader to hold talks with Trump in the White House following his inauguration on Friday 20 January.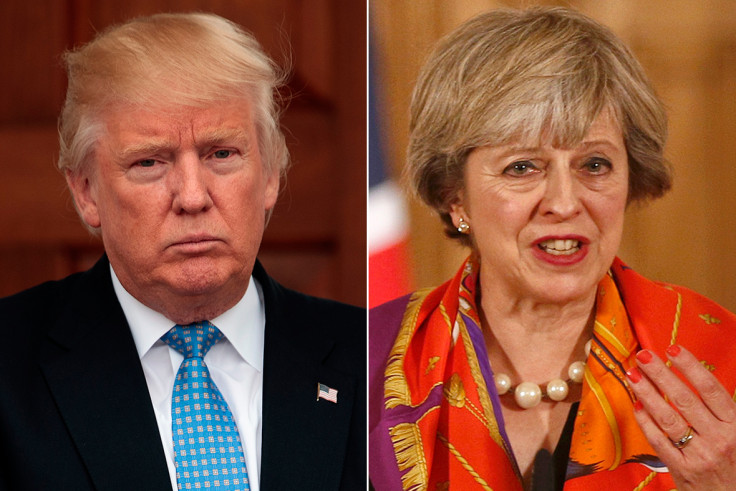 The newspaper highlighted the stark difference between Trump and former president Barack Obama who removed the bust of Sir Winston Churchill from the Oval Office while he was in office. Obama had also recently said that German Chancellor Angela Merkel was his "closest international partner."
Trump on the other hand had said that he wanted to embark on a trade deal with the UK quickly. The UK cannot sign a trade deal until it exits the EU but both countries are keen to hold initial talks, the newspaper added.
The president has said that he was a big fan of the UK and that a new trade deal "done quickly and done properly" would be "good for both sides."
The move to make it easier for US and UK citizens to work in both countries will allow President Trump to still hold on to his "America first" promise and at the same time offer a deal that will benefit both London and Washington.
And unlike Obama, Trump has criticised Merkel for her "one very catastrophic mistake" in "taking all of those illegals, you know, taking all of the people from wherever they come from," referring to the chancellor's open door policy allowing migrants fleeing war-torn areas to enter Germany.
The Times said Downing Street has confirmed that May will be speaking at a meeting of Republicans from both the House of Representatives and the Senate. She will be the first foreign leader to address the party's annual congressional retreat.
Downing Street said that it hoped the meeting will allow the two leaders "an opportunity to get to know one another and to establish the basis for a productive working relationship."
"There will be many issues for us to talk about, because obviously the special relationship between the UK and the US has been strong for many years," May told the BBC's Andrew Marr programme on 22 January.
"What I think is important is that when I sit down with Donald Trump I'm going to be able to talk about how we can build on that special relationship. He's already said to me that he wants to see a very strong relationship between the UK and the US going into the future. There are issues that we will work together on in the future," May said.
In addition to "talk about our possible future trading relationship," she said other global challenges like terrorism and Syria will also be discussed.