Sean Spicer: Who is Donald Trump's press secretary spinning 'alternative facts'?
Spicer incorrectly claimed Trump's swearing-in drew the "largest audience to ever witness an inauguration."
Donald Trump has only been US president for three days but his new White House Press Secretary, Sean Spicer, has already made headlines by offering "alternative facts" about the size of the Inauguration Day crowds in Washington DC.
Speaking to journalists at the White House briefing room on 21 January, Spicer claimed Trump's swearing-in ceremony drew the "largest audience to ever witness an inauguration - period." The statement was contradicted by photographic evidence.
He chastised the press for reporting on the relatively low numberd who attended the inauguration, saying attempts to "lessen the enthusiasm of the inauguration" were "shameful and wrong". Photographs taken during Trump's inauguration show Obama's inauguration in January 2009 attracted a larger crowd.
White House aide Kellyanne Conway later defended Spicer, saying he was just giving "alternative facts".
Over the weekend, tweets posted by Spicer about the electronic music duo Daft Punk - who he mistakenly referred to as "Daft Funk" - made during the Grammy Awards in 2014 have resurfaced.
"Daft Funk, this is your 10 seconds in the spotlight - u r blowing it," Spicer wrote, before telling a follower: "Come on helmets? Tey (sic) need to grow up."
Mockery aside, what else do we know about Trump's new spin doctor?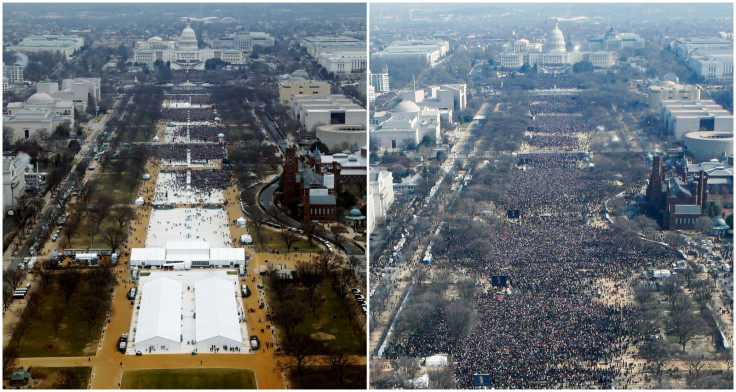 What is Sean Spicer's political history?
Spicer, 45, was the communications director of the Republican National Committee from 2011 to 2017 and its chief strategist from 2015 to 2017. He was announced as the new White House press secretary on Friday 20 January, the day Trump was formally inaugurated.
From 2000 to 2001, Spicer was the communications director on the House Government Reform Committee, before taking a post at the National Republican Congressional Committee.
Between 2003 and 2005, he was the communications director and spokesperson for the House Budget Committee, and then from 2006 to 2009 he was the assistant US Trade Representative for media and public affairs for George W Bush's administration.
In 2009, Spicer founded a PR firm with two other Republicans, before leaving in 2011 to take up the position of comms director of the Republican National Committee, where he put together a "rapid response" team to bat away attacks. At the beginning of February 2015, he was made chief strategist for the party.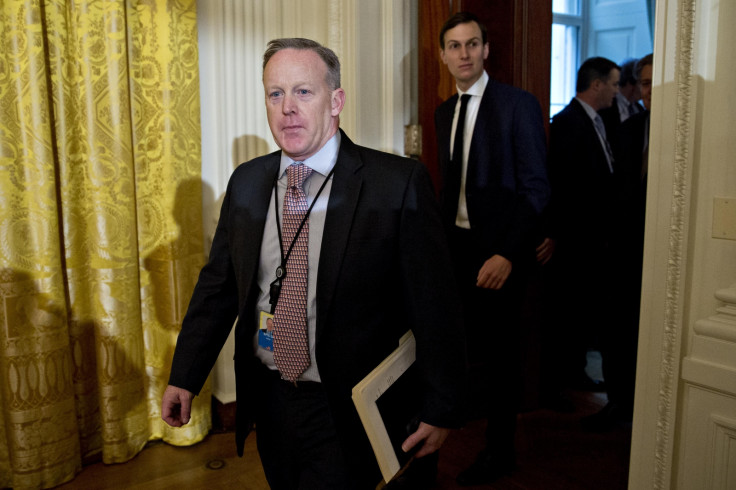 Sean Spicer and Donald Trump
In 2016, Spicer deflected criticism from Trump's election campaign - most memorably after it emerged Melania Trump's Republican convention speech appeared to have been plagiarised from Michelle Obama's 2008 convention address. Spicer claimed that the repeated phrases were widely used - including in a My Little Pony cartoon, as well as comparing passages of the speech to lyrics by John Legend and Kid Rock.
Like Trump, Spicer has been hostile to the media and has already issued a thinly-veiled threat to "hold the press accountable".
"There's been a lot of talk in the media about the responsibility to hold Donald Trump accountable. And I am here to tell you that it goes two ways. We are going to hold the press accountable as well. The American people deserve better and as long as he serves as the messenger for this incredible movement he will take his message directly to the American people where his focus will always be," a combative Spicer said in his first White House press briefing last week.
Spicer has not shied away from criticising the new president. When Trump criticised senator John McCain, who was a prisoner of war in Vietnam, Spicer said there was "no place" in the Republican party for "comments that disparage those who have served honourably."
Spicer married Rebecca Miller, who is the top communications officer at the National Beer Wholesalers Association, in November 2004 in Washington DC. The couple have two children and live in Alexandria in Virginia.
© Copyright IBTimes 2023. All rights reserved.