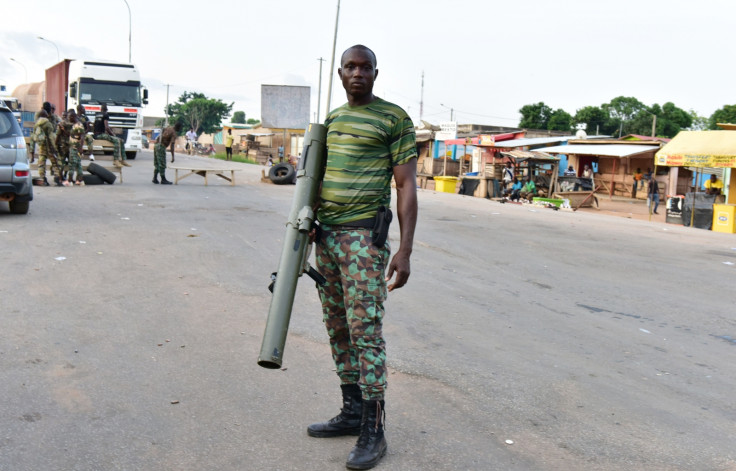 Banks, businesses and government offices remained closed today (15 May) in Ivory Coast's largest towns amid ongoing trouble with mutinous troops engaged in a pay dispute with the government.
Mutinies in the Ivorian army, which brought Ivory Coast to a standstill in January, subsided after the government agreed to pay CFA12m (£15,726, $20,316.) each to 8,400 army officers, effectively giving in to soldiers' demands over back pay and bonuses.
Soldiers received their first instalment at the end of the month, but are pushing for the balance of $11,600 which the state has been unable to pay following a collapse in the price of cocoa, the nation's main export.
On Friday (12 May), soldiers demanding the reinstatement of the deal with the government, took over major urban areas of the Ivory Coast and sporadic gunfire was heard in the commercial capital, Abidjan, and other towns across the country.
The army on Sunday said that it had launched an operation "to re-establish order" amid the four-day mutiny, but Reuters news agency on Monday reported that soldiers were using road blocks to prevent access to the country's second-largest city, Bouaké.
On Monday, Ivory Coast's banking association ordered all banks to stay closed "for security reasons", according to one bank official quoted by Reuters news agency.
One of the country's largest banks, Societe Generale, confirmed that its branches were shut. "Because of the current security situation the bank (SGBCI) branches will remain closed today. SGBCI apologises for the inconvenience caused and asks the clients to use the ATMs to withdraw money," Societe Generale said in a Tweet.
"All businesses are closed here in (the western town of) Daloa. The banks are closed and so are the cocoa buying businesses," a local businessman said. "The soldiers are in the streets on foot and on motorbikes. They're shooting in the air."
A spokesperson for the 8,400 former rebels, now embedded in the army, made a surprise announcement on Thursday (11 May) saying they were dropping their demands for the remaining balance.
However, this decision was rejected by a large number of soldiers – who said they had not been consulted – resulting in the latest mutiny.
There are concerns the protests could lead to a military standoff, after the Defence minister said it was not prepared to negotiate with the soldiers.
d