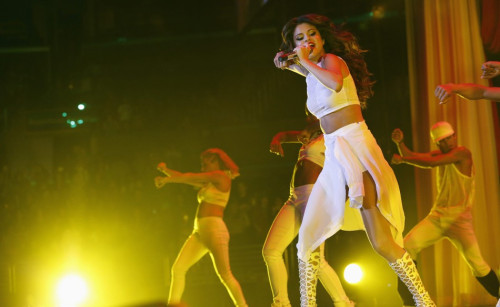 Pop star Selena Gomez appears to have moved on from her former boyfriend, Justin Bieber.
The 21-year-old has been spotted enjoying a night out with One Direction's Niall Horan, according to netizens. A fan of the couple with the Twitter handle Jessy Barnett shared a photo of the two during the night out.
Meanwhile, it is reported that Gomez has been having a rough time of late with reports suggesting that she has checked into rehab on Valentine's Day.
Apparently, Bieber has felt bad about his ex-girlfriend getting in and out of rehab.
"He feels bad about her situation. Justin hasn't been around to personally comfort her — possibly because Selena and her handlers won't allow it— but it's not like he doesn't care. She's got to control it and know her limit," insiders told HollywoodLife.
Gomez has also confessed of late that she finds it hard to ignore the constant rumours and speculation surrounding her private life, especially in connection with Bieber.
"It does get to me. I'm a human and I feel those emotions of when people talk about you. It's never a good feeling cause half the time it's just bull, it's not real. In the real world I'll drive my car to the grocery store and buy myself some food. In the media world it's like, 'Oohhh, I drive my car to go somewhere secretive.' It gets too clouded so I just have good people around me. I'm very picky," she stated.
"The hardest part (is) just trying to find someone that will just love the core person and not anything else around it," she added.
There was a heated exchange of messages recently between Bieber and Gomez that became public. According to Radar Online, these messages were verified and were real. They were forwarded by a cell phone registered to Gomez's stepfather, Brian Teefey, to one of her friends.
"Baby come on. I love you," the 19-year-old Bieber texted his on/off girlfriend Gomez. The couple had been spotted vacationing just a few weeks before.
"I don't buy that bullshit anymore. I was honest with you and I gave you a second chance. All my friends were right, you're such an a**hole," Gomez retorted in an angry backlash.
Following this exchange, the rift between the couple reportedly grew even wider.