Key Features:
Removable cable
In-line controls
Stainless Steel & Leather Construction
Price as Reviewed: £170
Introduction
Headphones these days seem to be more about statement than sound. From those using Apple's earbuds to those touting the latest and flashiest Beats by Dr. Dre headphones, sound quality seems to be secondary to letting people know you own an iPhone or are "down-with-the-kids."
Sennheiser's new headphones however look to provide a little bit of both, with premium sound quality matched with sophisticated design.
Design and feel
This version of the Sennhesiser Momentum headphones have an on-ear design, which means the cups sit on top over your ears, unlike the original Momentums which have an over-ear design covering your entire ear.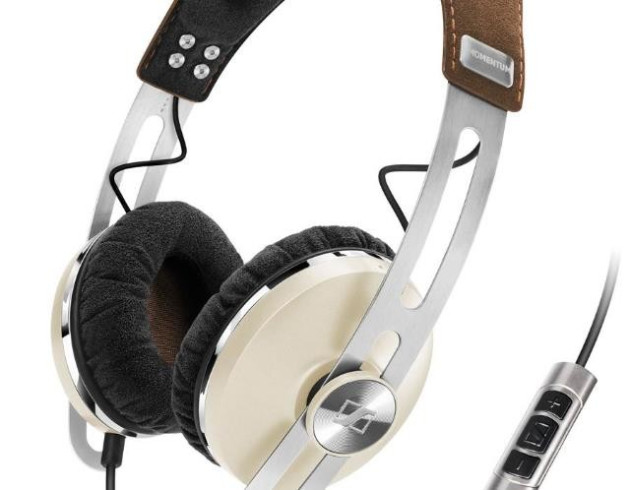 While on-ear headphones are designed to be more portable, they are also traditionally less comfortable. And so it is with this Sennheiser model. While the Alcantara-lined cups (it's what is used to upholster luxury yachts apparently) are certainly comfortable, wearing them for any extended period of time is not recommended, as they begin to pinch your ears, and you'll be feeling them on your head long after you've taken them off.
The headphones are constructed from a combination of stainless steel, real leather, plastic and the aforementioned Alcantara with the whole unit feeling extremely well built and well worth your £170. The stainless steel band adjusts smoothly, allowing for even the largest/smallest heads to be accommodated.
The whole thing weighs just 160g including the cable which makes it ideal for listening to music on the go.
The new Momentum range comes in four colours - pink, green, blue and brown - which are all attractive but in a much more subtle way that the in-your-face brashness of the Beats range.
Cables
The headphones feature twist-to-lock removable cables, which is always a plus, and each set comes with two in the box. The main cable is 1.4m long and features a right-angled jack as well as in-line remote. The so-called iRemote has been designed to only work properly with Apple devices however, with Android phones or other MP3 players only being able to use the Play/Pause button and not the volume buttons.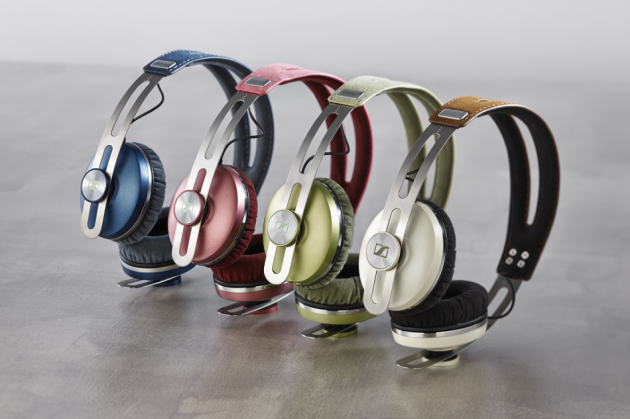 The other cable in the box is a typical stereo cable for use with your laptop or PC and it is also 1.4m long.
One of the major bug-bears for commuters these days is being inflicted with the music choices of their fellow passengers due to noise leak from headphones. While the Sennhesier Momentum On-Ear headphones are not perfect, noise leakage is relatively limited, and only at pretty high volumes.
Sound Quality
In terms of isolation, the headphones are not brilliant, though in a relatively noisy office they do block out most background noise. It is a different story on the Tube however, where the noise from fellow commuters and the creaking trains seeps in quite a lot.
When you do get to hear what you are listening to however, the Sennhesier headphones come into their own. While £170 is quite a lot to pay for a pair of portable headphones, it is immediately obvious that your money has been well spent when you finally get to hear what you are listening to.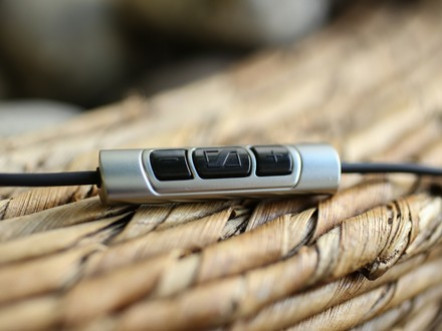 A great overall sound with an emphasis on bass makes the Sennheiser Momentum On-Ear headphones the best on-ear set I have used. A wide soundstage with great highs, mids and lows is complemented by excellent bass.
The bass really shines with techno tunes but every type of musical genre from classical to rock sounds good through these headphones.
Verdict
Sennheiser may not be as flashy and as immediately recognisable as the pervasive Beats headphones, but for those looking for sound quality over brashness, then the Momentum On-ear headphones are the obvious choice.
At £170 they are not cheap for a pair of portable headphones, and as with most on-ear designs, you can look like a bit of a prat wearing them. If you have a long commute (and I mean hours) then you might want to look at Sennheiser's more comfortable (and more expensive) over ear Momentums.
However for pure sound quality you are going to struggle to beat these headphones at this price.
Scores:
Overall: 9/10
Design: 9/10
Comfort: 8/10
Sound Quality: 9/10
Value: 8/10
The Good
Superb sound quality
Impressive design
The Bad
Uncomfortable for longer listening sessions
Relatively expensive