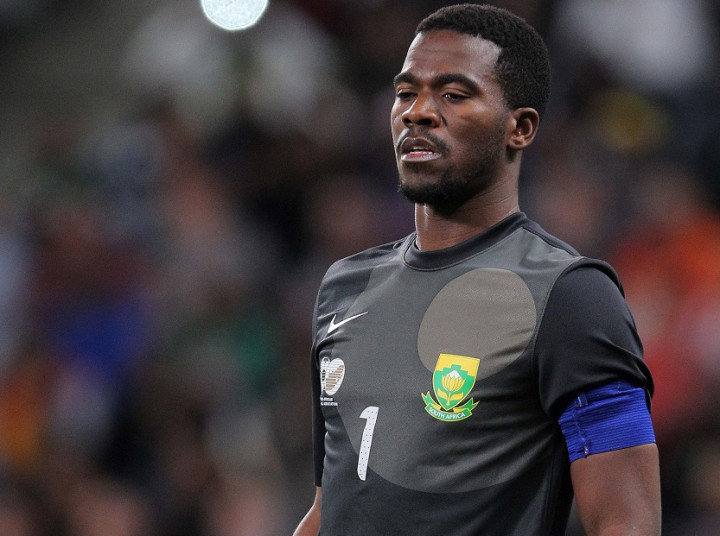 Football chiefs have called on fans to not shield the killers of South Africa's team captain Senzo Meyiwa, during an emotional press conference.
The country's soccer community was in shock this morning at news of the death of Meyiwa in what one top figure in the game called a "national tragedy."
Armed intruders who broke in to Meyiwa's girlfriend's home near Johannesburg, shot dead the goalkeeper during the robbery.
Anybody holding information which could lead to the capture of his killers should tell police at once, said Dr Irvin Khoza, the chairman of the Orlando Pirates team for which Meyiwa played.
An emotional Khoza told reporters: "If Senzo can die this way, how safe are we? We have to use every power we have to bring them to book. We are going to hold back our emotions and people need to help the police to find these guys.
"We are responsible for the happiness index of this country. I cannot find it possible that hours can go past without knowing who killed Senzo. We want to know who killed Senzo. We want to know why. It will good for the family to understand."
Orlando Pirates and Kaizer Chiefs shall not play next weekend's derby clash as a mark of respect for Meyiwa, the chairman of South Africa's Premier Soccer League said.
Tears were shed for Meyiwa by the coach of South Africa's football team, nicknamed Bafana Bafana. Coach Ephraim 'Shakes' Mashaba called his death a "national tragedy."
"It saddens me to be here sharing in the grief. For me this is a national tragedy," said Mashaba. "It really saddens me we're talking about someone whose career was blossoming. The entire soccer fraternity has lost. He was a national asset.
"He was a true example of a leader who was prepared to fight for his country. The time will come for us to celebrate his achievements. He was a fighter, a real soldier."