Ahead of the release of interim management statement on Monday, Serco Group Plc was awarded a £430 million contract by British retailer Shop Direct to run its customer services. The group will manage customer contact services and investments in technology across Shop Direct's brands over the next 10 years.
Recently the FTSE 100 international service company announced that it has been selected as a preferred bidder by Transport Scotland for a new contract worth £350 million over six years to deliver lifeline ferry services to the Northern Isles. The contract is expected to be signed in the coming months and is due to start in summer 2012.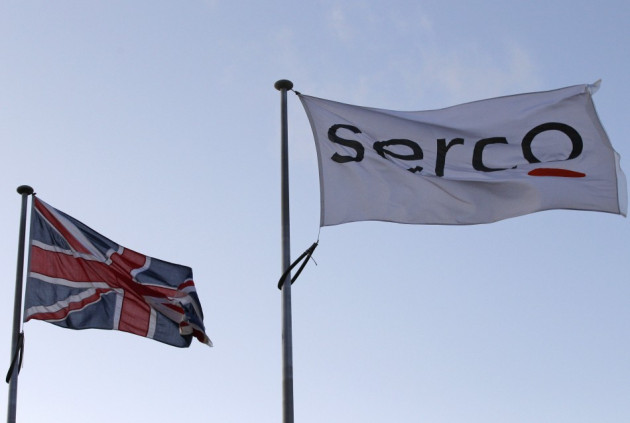 "We are delighted to have been chosen by Transport Scotland for this crucial lifeline ferry service. By bringing our proven transport and marine expertise, our approach will enable us to improve the service to customers whilst delivering good value for the taxpayer. This contract adds to our strong presence in Scotland supporting the improved delivery of public services. We look forward to continuing our track record in delivering better and more customer-led transport services for users and delivering efficiencies for our customer," said CEO Christopher Hyman, while commenting on the deal.
According to the company reports, the group expects good organic revenue growth and further progress on operating margins assuming the blow of continuing economic challenges is manageable. By the end of 2012, it expects increases in revenues to approximately £5 billion and adjusted operating profit margins to approximately 6.3 percent (excluding material acquisitions, disposals and currency effects). Strong longer-term growth opportunities remain across the group.
For the full year ended December 31, 2011, the group reported an increase in revenue by 7.4 percent to £4,646.4 million compared with £4,326.7 million a year ago. Its pre-tax profit rose by 11.4 percent to £238.3 million with earnings per share at 35.70 pence compared with 31.88 pence in previous year.
Serco's order book stood at almost £18 billion at the end of the year 2011, providing revenue visibility of 92 percent for 2012, 80 percent for 2013 and 70 percent for 2014.
Serco said its organic revenues declined by 6 percent in US and expects budget delays and the upcoming presidential election to put further brakes on much of its potential workload until 2013.
BofA Merrill Lynch downgraded group's rating to 'Neutral' from 'Buy' with a target price of 590 pence per share after the full-year results.
"We have cut our organic growth estimates to 3.5 percent in 2012 and 5 percent in 2013, as a result of incorporating greater run off from UK contracts, including a significant drop in sales from DWP (Department for work and pensions) welfare to work. This and U.S. weakness are likely to peak in H1 2012, when organic growth could be as low as 1 percent," said the broker in a note to its clients.
BofA Merrill Lynch also indicated that some of the large contracts of Serco are due for renewal in 2013 and 2014, on which it believes that the risk of loss is greatest on electronic.
Below is a summary of sector comparisons in terms of price earnings, earnings per share, dividend per share, dividend yields, return on equity and price-to-book ratio. The table explains how the company is performing against its peers/competitors in the sector. The table below represents top ten companies based on market capitalisation.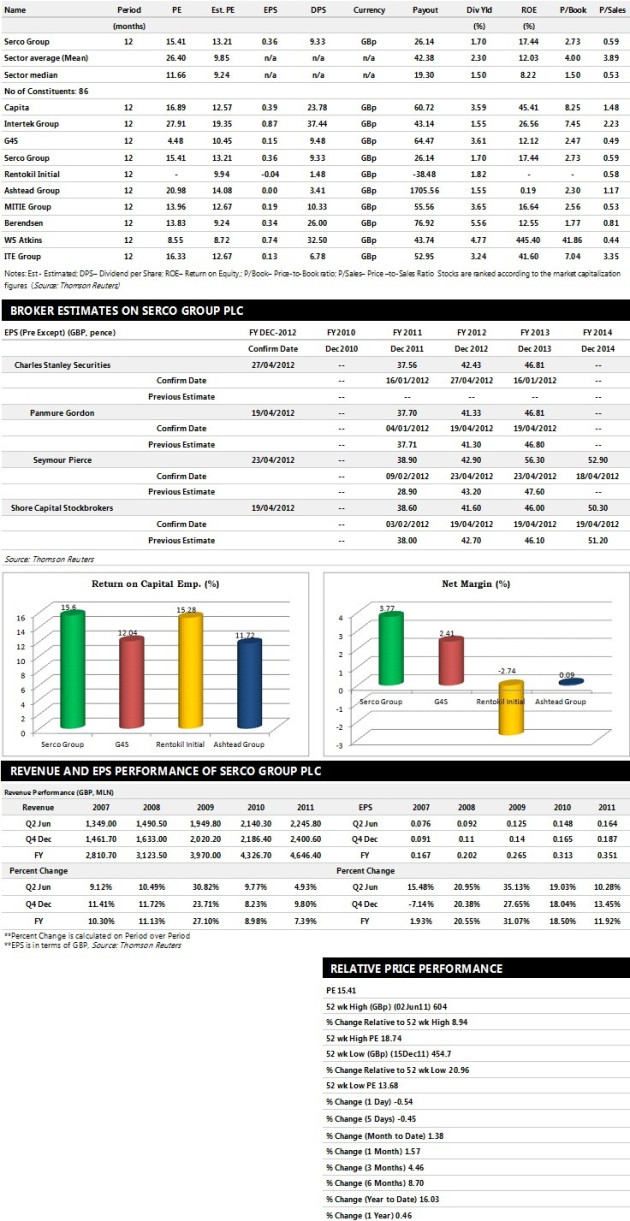 Brokers' Views:

- Canaccord Genuity assigns 'Buy' rating on the stock with a target price of 720 pence per share
- Charles Stanley Securities gives 'Underperform' rating
- Seymour Pierce assigns 'Buy' rating with a target price of 650 pence per share
- Shore Capital Stockbrokers recommends 'Outperform' rating
Earnings Outlook:

- Charles Stanley Securities estimates the company to report revenues of £5,004.10 million and £5,348.70 million for the FY 2012 and FY 2013 respectively with pre-tax profits (pre-except) of £289.70 million and £321.00 million. Earnings per share are projected at 42.43 pence for FY 2012 and 46.81 pence for FY 2013.
- Seymour Pierce projects the company to record revenues of £4,992.60 million for the FY 2012 and £5,392.00 million for the FY 2013 with pre-tax profits (pre-except) of £286.40 million and £376.10 million respectively. Profit per share is estimated at 42.90 pence and 56.30 pence for the same periods.
- Shore Capital Stockbrokers expects Serco to earn revenues of £5,033 million for the FY 2012 and £5,352.50 million for the FY 2013 with pre-tax profits (pre-except) of £280.70 million and £311.90 million respectively. EPS is projected at 41.60 pence for FY 2012 and 46.00 pence for FY 2013.